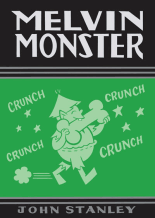 In Monsterville, every day is Opposite Day. Kids are encouraged to disobey their parents, run away from home, play in the street, and throw bricks through the neighbors' windows. But there's one child who instead dares to act like an angel, even though his cheery disposition and curious nature get him into a different kind of trouble, all chronicled in MELVIN MONSTER, VOLUME 1: THE JOHN STANLEY LIBRARY.
This delightful collection from Drawn and Quarterly is comprised of the first three issues of Dell's MELVIN MONSTER title from 1965, written and illustrated by the late, great Stanley. Today, his work is mostly forgotten beyond a core group of devotees, but hopefully, this book — and other planned volumes in D&Q's series — will give that narrow audience the Opposite Day treatment.
True to his name, Melvin is green-skinned, like every good Frankenstein creation should be. He has a half-moon mouth and pointy hair, and lives in a massive, multistory haunted house with his "Mummy" and "Baddy," as well as a pet alligator named Cleopatra. Some pet — the reptile is always attempting to hide somewhere inconspicuous, in hopes that Melvin will stumble into its hungry, open jaws.
In the misadventures on display here, often told in a style that feels freewheeling and even improvisational, he attempts to go to school, despite the efforts of the witchy teacher to boil him; gains a guardian demon; ends up in a cage as a living trophy to a rich guy; encounters untold terrors in the cellar; becomes the temporary property of monster hunters; and accidentally falls into more mischief than most "human beans" his age.
Other than this year's Free Comic Book Day offering from D&Q, Stanley's work has come across my mitts in woefully short supply. That's too bad, but there's nothing like the joy of catching up, and Stanley is one who deserves it. Put simply, these are kids' comics at their peak: simple, but not stupid; innocent, yet not insipid; creative, without having to convince you of its cleverness; and, above all, timeless. Get one for your children … and one just for you.
As good as Stanley was at visual gags and imaginative plots that sometimes veered toward the surreal (and one wished this volume didn't lack an introductory essay to clue readers in on his story), the success of the book isn't completely due to him. D&Q has assembled MELVIN MONSTER into one handsome package, with covers, endpapers and assorted pages provided by renowned indie-comics giant Seth. Transitionary pages show Melvin in near-black shades against a completely black background, but with the whites of his eyes popping in stark contrast.
Yours may do the same. —Rod Lott