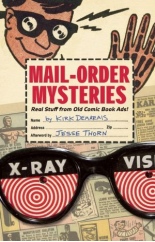 Anyone who grew up reading comics in several decades ago remember those ads hawking all these cool things you could order. Or, better yet, a way to make money to win a bicycle. Of course, most people who answered these ads learned the most important lesson of their lives: There's a sucker born every minute, and they read comic books.
Kirk Demarais' great MAIL-ORDER MYSTERIES: REAL STUFF FROM OLD COMIC BOOK ADS! answers the lasting questions to those kids whose parents would not let them waste their time and money. And if you did, it's a clear reminder of exactly what kind of crap you ended up with. Ironically, this book represents, without a doubt, some of the best money I ever spent.
The book is broken up into eight sections, from gadgets that promised special abilities (X-Ray Spex, anyone?) to money-making opportunities for the budding entrepreneur (did anybody actually read GRIT or sell flower seeds?).
Demarais needs to be commended on the thorough work he did here, spotlighting 150 items from those ads. How about those life-size monster posters or real, live ghosts? For each, we are shown the original ad, the actual item that would arrive, and Demarais' very funny text that delves behind the mystery and customer satisfaction.
One of the greatest rip-offs covered are the Flashing Eyes. Wow, anyone who sent in their money for that one probably thought those mini-subs worked, too. For the record, I owned Sea Monkeys (SOUTH PARK really nailed this one), Vampire Blood (which was the coolest) and a box of 100 soldiers, which left both me and the author flat.
This is a great book to leave around the house, since every page is filled with blasts from the past. The real kicker is the glow-in-the-dark skull that magically appears on the back cover. For those who grew up in 1960s to the 1980s, MAIL-ORDER MYSTERIES is a perfect piece of nostalgia — plus, you don't have to wait six to eight weeks for delievery. —Bruce Grossman