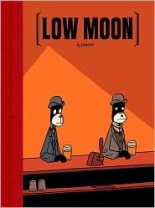 As a rule of thumb, anthropomorphic animals aren't my thing. That's because — much more often than not — the device is used to be cute. But anyone who's seen the work of uni-named writer/artist Jason knows that "cute" isn't in his vocabulary. He's the anti-cute, and LOW MOON is the best work I've seen from him yet.
The Fantagraphics hardcover collects five oddball tales, all told in four-panel pages with a majority of the cast being upright-walking, English-speaking dogs. There's no apparent point for them being canines, since their stories are all-human. Yet the work wouldn't have nearly the same punch with mere people.
I don't care that "Emily Says Hello" is illustrated fiction, because it deserves to be on any year-end list of 2009's finest crime stories, no matter what the format. In it, a hitman is routinely hired by a woman to bump off guys in return for increasingly sexual favors. Before he can grab a boob or receive a blowjob, the guy must play her tape-recorded proof of each mission's success. Each piece of aural evidence ends with the same phrase, "Emily says hello," followed by the blam of a bullet entering — one presumes — some poor sap's head. The ending is sudden, shocking and remarkably poetic.
The second story, "Low Moon," is Jason's HIGH NOON — a Western in which every cliché of the genre is deftly parodied. The town sheriff is visibly unnerved when an old enemy re-emerges, meaning a showdown is inevitable. But it doesn't involve guns — this war is to be waged on the chessboard.
Coming in the middle is "&," a pas de deux of sorts, with one narrative playing out on all the left-hand pages, and another playing out on all the right-hand pages, eventually intersecting on the final page. On the left, a man becomes a thief — and a rather bumbling one at that — to get $10,000 to pay for his dying mother's operation. On the right, another man is head over heels in love with a woman engaged to another. So he kills her fiancé. And then she falls for someone else, so he offs that guy, too, and so on, and so on, until he gets his chance. It's rather brilliant.
Similar in feel and funny is "Proto Film Noir," which reads like a James M. Cain parody, as a wife and her lover plot to kill her husband. They do, but the bastard keeps coming back to life, so they kill and kill again.
Finally, there's "You Are Here." In it, a wife and mother of one is kidnapped by an alien who takes off in a rocket to outer space. Her shocked hubby vows to their only son to get her back, so he begins building a rocketship. Twenty years later, he's still building, but a vow's a vow. It's more than a little heartbreaking to see the motherless boy grow into a fractured family of his own, and a lot more heartbreaking when Mom's fate is revealed.
One and all, these are excellently told tales from a unique talent. —Rod Lott