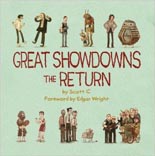 A sequel to last year's THE GREAT SHOWDOWNS, Scott C.'s GREAT SHOWDOWNS: THE RETURN features dozens upon dozens more of drawings of depicting some of pop culture's greatest adversaries.
That's it: They just stand there facing one another, whether "they" are the characters of KRAMER VS. KRAMER, ENTER THE DRAGON, WEST SIDE STORY — heck, even THE RED BALLOON!
And that's fine, because Campbell — that's what the C stands for — is a wonderful illustrator; his drawings radiate with immeasurable charm, even when they're of some of the most evil A-holes the screen has seen.
But not everything is decipherable, and there are no words, no captions, no legend at the end to let you know who was who. Not knowing can be frustrating, even if the unknowns number few.
To be technical, not everything is a showdown, either. I'd hardly call Cameron losing himself in the Georges Seurat painting in FERRIS BUELLER's museum montage anything approaching conflict. —Rod Lott