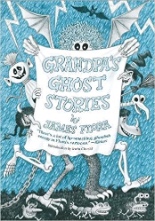 For fans of illustrator James Flora, the news that his children's book GRANDPA'S GHOST STORIES has been rescued from oblivion is a treat worthy of Halloween and an early Christmas present.
For those who don't know Flora by name, no worries — you most likely have seen his work adorning the coolest covers of jazz albums issued by the RCA Victor label in the 1950s. All you should know about the man can be found in Irwin Chusid's introduction, new to this edition from the ephemera-friendly Feral House. The publisher's reissue marks the first since the book's original 1978 release.
The trio of GRANDPA'S GHOST STORIES owes debts both stylistic and subversive to the likes of Shel Silverstein and Charles Addams. And yet, in words and in pictures, the work is uniquely Flora's own: a diabolical primer for brave young readers not quite ready to make that lump-throated leap to R.L. Stine, in part because Flora clearly delights in delivering the frights.
Utilizing the reliable framework of an elderly man spinning increasingly tall tales to his all-ears grandson, the book trafficks in childhood fears of skeletons and spiders, of ghouls and goblins, of undefinable things hiding in plain sight. One can picture the titular grandfather as a stand-in for Flora himself, pipe at pursed lips as he readies to yank the psychological chains of his young charge with another spook-filled yarn.
With sound effects worthy of a Don Martin panel gag, Flora's prose will appeal instantly to kids, while their parents will appreciate the thinly veiled barbs at mass media (perhaps even more relevant four decades late, even if the landscape has changed dramatically). All ages will find much to absorb in the drawings on every page. Although they're only tinted in blacks and blues, they contain the color of a macabre sense of humor and a playful manic energy. —Rod Lott