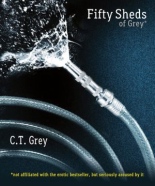 Already, to one one's surprise, many parodies exist of E.L. James' mommy-porn smash FIFTY SHADES OF GREY, but C.T. Grey's FIFTY SHEDS OF GREY is the first I've dared crack open, and I only did because it can be read in its entirety within the span of a troublesome bowel movement.
I didn't, but you get the picture. And I apologize for it.
FIFTY SHEDS apparently was born as a Twitter account. Whatever the story, you can guess the premise by its title: sex in the garden shed. Are you laughing yet?
No? Well, just read some of these random excerpts:
• "From that first encounter I was hooked — I just couldn't get enough of sheds and mowers. Or S&M for short."
• "It was damp, uncomfortable and didn't last very long but it's true what they say — you never forget your first shed."
• "My whole body shuddered as she entered my Man Cave. I really must get a padlock for the shed door."
Maybe I just don't "get it." Or maybe it's just not funny. Yeah, I'm going with the latter. —Rod Lott