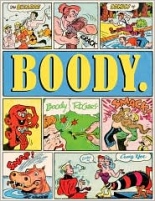 According to Craig Yoe's BOODY: THE BIZARRE COMICS OF BOODY ROGERS, the late, obscure cartoonist is someone whose work you should know. Writes Yoe, "Now Boody could write funnier than Elzie Segar, create more excitement than Milton Caniff, draw more amazing than Frank Frazetta, ink slicker than Wally Wood, make sexier girls than Dean Yeagle, letter better than Artie Simek, and his comics were loonier than Fletcher Hanks's."
Funny thing is, this Fantagraphics collection of a baker's dozen of Rogers' stories from 1948 to 1950 convinced me that most of what Yoe crows about is true. One point of distinction should be made, however, in comparing Rogers to Hanks: Rogers wasn't inept.
The bulk of the book is devoted largely to two staple characters: Babe, the so-called "Amazon of the Ozarks," and Sparky Watts, the bespectacled lad who shrinks to bug-size without a regular dose of cosmic rays. Babe is beautiful, but Rogers turns the buxom-blonde stereotype on its head, making her the most gifted athlete around, albeit with dirt-stupid hillbilly parents. Imagine if Basil Wolverton did "Li'l Abner" — that's what it reminded me of.
An agent tries to sign Babe to baseball's big leagues, but her double-pipe-smoking pa has promised her hand in marriage to an inbred hick. In another adventure, she's visited by Clark Sable, a Clark Gable lookalike hiding from overzealous fans by donning drag (!) and passing himself off as Babe's long-lost cousin, Fanny Hawgfat. And then Babe investigates the disappearance of many lovely ladies on Mystery Mountain, where she's bridled up and ridden around by centaurs.
To say Sparky Watts doesn't get his cosmic rays in time is obvious, because otherwise, what would the point be? Once shrunk, Watts runs from the oddest-looking insects in comics history and even gets trapped on the head of an African monkey. His big-footed, dimwitted pal Slap Happy isn't much help, of course. A later story thread finds Sparky visiting the freak show with his friend Hattie, who's just a pair of feet with a hat on top, and thus, finds true love there.
Other stories introduce us to Jasper Fudd, the reluctant student runner; Dudley, the "prince of prance," a jazz-happy teen whose brother Stringbean uses LPs for target practice; and Mrs. Gooseflesh, found not guilty by the courts of snapping the necks of her husbands, even though she totally did. Explains the Mrs.: "The snap of a neck is so melodious —- There's nothing as jivey as the pop–ee–de–pop of a good compound fracture!!"
Each page of BOODY is a delight to take in. These comics are colorful, good-natured and good-humored, full of pep and personality. Story isn't exactly Rogers' strong suit — some of them simply end abruptly — but they're drawn with such gusto that their appeal is undeniable. Rogers definitely was ahead of his time, demonstrating more zeal for the medium than much of his contemporaries. —Rod Lott
OTHER BOOKGASM REVIEWS OF THIS AUTHOR:
• CLEAN CARTOONISTS' DIRTY DRAWINGS by Craig Yoe