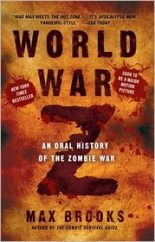 Many a zombie book has made the monster in vogue, but Max Brooks' WORLD WAR Z: AN ORAL HISTORY OF THE ZOMBIE WAR arguably has been the most high-profile of them all, spawning a now-shooting, hope-it-doesn't-suck movie starring Brad Pitt. It had to have sold a kajillion copies, because it's just now hitting mass-market paperback, a full half-decade since its first publication.
The novel is exactly what it says it is: A series of loosely connected interviews with various survivors of the worldwide zombie plague. Because of government repression (and censorship), our narrator notes in his introduction that he thought it vital his story — meaning everyone's story — be told. Thus, we get more than 300 pages of roughly chronological accounts and remembrances (in transcripts, interviews and monologues) of the zombie war, from coast to coast, hemisphere to hemisphere.
With so many stories being told from so many disparate characters we barely get to know, there's not much to latch onto. The brief chapters may make WORLD WAR Z bathroom-friendly, but it also keeps it from achieving cohesion. The subjects range the gamut of interest, depending on your tolerance for cliché — of course, you get the point of view from the righteous scientist, but who would've expected one of a mentally handicapped girl?
Brooks sold a lot of copies of 2003's THE ZOMBIE SURVIVAL GUIDE, a "humorous" how-to parody that had nary a laugh in it. To his credit, he's not trying to be funny here (which must be hard when your own father is Mel Brooks), and he more than acquits himself as a good writer. But other books, primarily from the small, indie press, have done it better, at a fraction of the pages, with none of the marketing muscle and exponentially more imagination. —Rod Lott