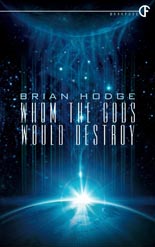 Damien's first strong memory recalls his mother dragging he and his half-brother, Cameron, to a remote forested location. She yelled at him to stay put, handcuffing him to the wheel of the car as she and Cameron walked off together. Damien's envy and repulsion lock into place at this moment and underscore his narration throughout Brian Hodge's tense novella. Who is this monstrous woman? And how does a child expressly exiled from familial love find his place in the universe?
WHOM THE GODS WOULD DESTROY, a finalist for the Shirley Jackson award for best novella, complicates that existential angst with echoes of Lovecraft, as Damien's sense of otherness in his own home is complemented by an increasing dread about what Others might be lurking just beyond our consciousness, trying to find their way in. His first memory ends with him slipping the shackles and wandering into a glade to find his mother and brother circling a man lashed to a tree, the stars wheeling overhead.
The story begins as Damien, now a graduate student in astronomy, is reluctantly reunited with his brother. Cameron–long out of touch, and apparently engaged with a shady cult (as opposed to one of those friendly, beacon-of-the-community cults)–needs his brother's help, and in particular his expertise in xenobiology. Damien is intrigued and repulsed in equal measures, and finds himself seeking to uncover more about his family.
Hodge weaves together science fictional tropes–a few key quotes from Arthur Clarke, some intriguing concepts around panspermia–and grand old traditions from Weird Horror and the Old Ones. The central mystery (what happened in that glade, and what was going on with their mother?) is compelling, and unfolds with a confidence that allows both subtle evocation and a few gripping sequences of surrealist spectacle. But Hodge is particularly good at sketching complex characterization; one could relish the novella for its eldritch pleasures or for the way such horrors metaphorically resonate with themes of dislocation and homelessness. WHOM THE GODS WOULD DESTROY is a strong illustration of why Hodge remains a major voice in horror fiction. —Mike Reynolds