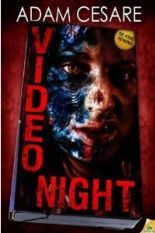 Adam Cesare's VIDEO NIGHT doesn't hide its aspirations, or — considered another way — its lack of them. The cover's mock-up of a videocassette box — remember those? — asks that we "Be Kind Rewind." And the novel has its eyes on the rearview mirror, gleefully reproducing or rehashing various tropes of '80s horror films.
In a plot pickpocketed from THE HIDDEN, itself something of a smash-and-grab, tentacled, bitey-buggy things from outer space leap down the throats of unsuspecting schlemiels and then ride about inside their human hosts, raising hell and spitting out seedlike spawns, all part of the big "plan" to catch the world off-guard.
Cesare nods to the greater global invasion, but the action here remains intently focused in a small corner of Long Island. Shy horror fanboy Billy Rile is just trying to enjoy the Friday-night ritual of watching — or, more often, re-watching — one of his favorite flicks with his charming bad-boy pal, Tom.
Because Tom is a bad boy, he plans to bring along his (whiny) girlfriend, Darcy, and tries to get his buddy "laid," too, by convincing hot neighbor-crush (but secretly wanting to be a good girl) Rachel to come along for the fun. Tom will also bring the booze, and these weird little pills the video clerk slipped him.
But the pills are seeds, man!
Even as he sets the stage for this big showdown on video night, Cesare (with an impressive, understated skill) introduces (and usually with great haste dispatches) a range of characters. The book may be a bit like one of those slightly rusted heaps with "Price Reduced" banners at the back of the lot: worn down, looking just like any number of other wrecks. But under the hood, there's a pretty well-tuned engine.
The narrative may be a loving re-creation of very familiar stories, but there's no denying the author's technique. At times, Cesare is one crafty wheelman, making you forget the duct tape on the seat and the rust on the chassis. His pleasure with the details is palpable, particularly in describing the mayhem: the bugs bust their way out through the throat and mouth, "their evacuation causing the body's broken lower jaw to bounce … like a grotesque, miniature diving board."
And there are more than a few reminders of other films, self-conscious nods to the overfamiliarity of some details, to the pervasive nostalgia ("It was as if a John Hughes film had exploded inside the room, coating the walls with hormones, poor decision-making skills, and insecurity").
The author has an odd sense of humor that I found a strange delight. (At one moment, Tom tells Billy he looks "like the world's saddest plus-sized tampon." I don't even know what that means, but it had a loony specificity that made me crack up.) It's a fun ride.
But there's no getting around how relentlessly familiar it all is. And that can be a little disheartening. Despite some neat tricks as we race around the track, we're not really going anywhere. I can't really blame Cesare — hell, I watched all these movies, too, and it was fun catching up with my memories of RE-ANIMATOR and THE EVIL DEAD. But this recycling is all too typical of '00s horror film and fiction; "remember that?" seems recently to be a governing creative impulse.
Critic Paul Kincaid called out the "state of exhaustion" pervasive in "genres of the fantastic." I disagree slightly, particularly in regards to horror, a genre frequently interested in returning to old haunts. The best turns down memory lane open up new ways to see old favorites, reinvigorate and make newly strange and horrific our old familiar fears, as Ti West and Joss Whedon have demonstrated.
VIDEO NIGHT isn't quite in that league, though; it's as fun as the B movies it celebrates, but I probably wouldn't re-rent it. That said, Cesare is clearly talented, and it'll be fun to watch him let his more idiosyncratic impulses break free of nostalgic celebration. —Mike Reynolds
Buy it at Amazon or Samhain Publishing.