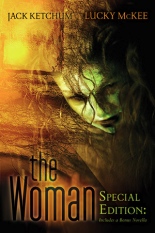 The title of this novel makes it sound as if it should be a 1970s flick starring Jill Clayburgh. The plot, however, is full-out splatterpunk horror.
In THE WOMAN, Chris Cleek, country lawyer and family man, is out hunting one day when he sees a scarred, feral woman bathing in a stream. Chris discreetly follows her to the cave she has staked out as her home and a place to tend to wounds she has suffered.
Now, anyone else would probably call the authorities. But Chris is not all that he seems. You see, Chris Cleek is a sociopath who hides a mean and nasty side, and his wife and kids are either enablers, or they're victims of his behavior.
"The woman" — as she is known throughout the novel — is the last of a tribe of cannibals. Chris doesn't know this; all he knows, and believes, is that she is a wild animal that needs to be tamed. Chris wants to capture her, drag her back to his cellar, and keep her chained up so he can "civilize" her. He even enlists his family to help him.
Of course, we all know what's going to happen: The woman is a savage force that can't be tamed, and bad things are going to happen to everyone involved. Luckily, there aren't any likable characters, so when the slaughter happens, the reader doesn't really care.
THE WOMAN, by Jack Ketchum and Lucky McKee, is like one of those cheapo horror films where everyone is either so stupid or so annoying, that you're basically counting the minutes until they get massacred in some particularly gruesome manner. Like keeping a scorecard and checking it off as each mutilation happens. (And, no, I haven't seen the actual WOMAN movie McKee made from the book last year, with Ketchum co-scripting.)
The plot is simple, and one that's been done to death before. It's the old "Who is the animal: the one in chains, or the captor?" It was fresh back during the original KING KONG, and incredibly stale by the time the remake came around in the late '70s (or any half-dozen made-for-Syfy movies you could pick at random).
This Cemetery Dance special edition also includes a short story — an epilogue of sorts that follows the events of the novel and details what the survivors are up to a few years later. It's even more gruesome than the main story, which I wouldn't have thought possible.
Stephen King has been singing Ketchum's praises for years, which is what made me pick up his 2001 novel, THE LOST. That one left me cold. Although I thought he had an interesting story to tell, the unsympathetic characters made it hard to care. In this work, there's a definite energy to the story, but again, the lack of anyone to root for made it difficult to care about the outcome.
THE WOMAN is a sequel, of sorts, to Ketchum's OFF SEASON and OFFSPRING. Although you don't have to be familiar with those works to read this one, if you are already a fan, you'll probably want to order THE WOMAN. For all others, especially those who prefer their suspense fiction with little to no gore, this one is probably not for you. —Slade Grayson
Buy it at Amazon or Cemetery Dance.