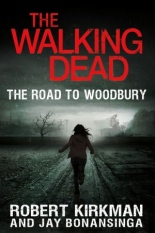 THE WALKING DEAD: THE ROAD TO WOODBURY, the follow-up to last year's RISE OF THE GOVERNOR, is not a "novelization" of the popular TV series, but rather, like its predecessor, a backstory expansion of characters and episodes already familiar to devotees of the comic books. Here, however, franchise creator Robert Kirkman and horror novelist Jay Bonansinga take a slightly different narrative approach.
When the zombie plague (or "The Turn," as it was later called) hit Atlanta, young Lilly Caul fled the city and now lives day-to-day with other survivors in a ragtag series of encampments. But the walkers — those ravenous zombies that often travel in herds — are never far away and keep the survivors constantly on their guard.
One afternoon, as Lilly and a few of her friends discover a deserted Walmart store and loot it for much-needed supplies, they are confronted by another group of heavily armed survivors. Lilly and her friends are alarmingly outnumbered, but the leader of the newcomers offers a truce, and invites Lilly and her group to a walled-in nearby town once known as Woodbury.
 
At first, Woodbury seems like a paradise amid the zombie-plagued world. There's food, comfortable shelter and even a clinic with a doctor and medical supplies. But the whole town — and its barter system of services for food — is ruled by the ominous presence of Philip Blake, known to the Woodbury citizens as The Governor.
 
It's not long before Lilly and her friends suspect that all in Woodbury is not as it seems, and sense something sinister behind The Governor's idea of law and order. So she convinces a few of the Woodbury residents to join her and her few remaining friends in a plot to overthrow The Governor and escape Woodbury, knowing all while the deadly consequences if their plan fails.
 
For what is essentially a tie-in, the novel surprisingly provides a mostly satisfying reading experience. This is mostly due to Kirkman and Bonansinga avoiding the characters featured in both the comics and TV series, resulting in a fresh perspective on the setting and events. The different time frame also helps. While not exactly an origin story — like RISE was — the story takes place in the earlier, formative days of Woodbury and The Governor's reign.
Thanks mostly to Bonansinga, the writing style is energetic and consistently moves the story forward with just enough character background and interiority to provide narrative depth. The prose is especially effective when depicting the various and graphic battles with the zombies and, in quieter moments, the occasional ponderings on the undead's horde behavior. Detracting from this, unfortunately, is the authors' fondness for ending sections and chapters with cliffhanger passages, which sometimes vary into cringe-producing melodrama.
 
Both this and the earlier novel are obviously intended for fans primarily of the comic books (now well past its 100th single issue) and/or the ratings-shattering AMC cable television adaptation. Those unfamiliar with the comics should be warned that The Governor in these novels is the grungy, long-haired and Fu-Manchu-mustached figure of the comics, as opposed to the more clean-cut, civilized-looking (but no less ominous) character played by David Morrissey on TV.
 
Needless to say, there are numerous other excellent zombie novels and story collections out there to keep any living dead fan happy. But for those who can't get enough of THE WALKING DEAD in between the monthly comic publications or during breaks in the TV season, these particular novels provide an unexpectedly gratifying fix. —Alan Cranis