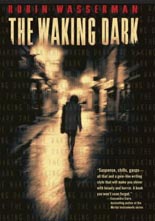 The first 31 pages of Robin Wasserman's THE WAKING DARK are a punch in the gut. We're immediately immersed in terrible mayhem. A gunman opens fire in a drugstore, and attention centers on Daniel Ghent, who manages to survive.
His terror is ours: the startled recognition of what's happening, the flash of memory of so many mass shootings, the nausea at seeing friends and neighbors taken down, the nausea and guilt and fear about surviving when all around you haven't. That scene of mass homicide is written without sensation (or without lurid, hepped-up prose — the situation is more than sensational enough).
Wasserman's an unfussy and enormously effective writer of action, producing a cinematically clear sense of how a complicated scene is unfolding and evoking empathy for the characters with a stray detail and a deceptively casual facility.
Without taking a breath, as if this massacre weren't enough, the next scenes further destabilize the reader. Skipping points of view around the town, we see domestic violence, a vicious hit-and-run, a brutal slaying in a church. And in one further, horrific scene, the narrative focuses in on one character who, messing with our expectations (and our heads), ends up committing a murder.
"What happened?" then resonates and compels you to keep ticking away at just one more chapter, and then one further, as the evening zips by. Wasserman's mastery of the tricks and tactics for suspense — in teasing out the possibilities — are impressive. THE WAKING DARK at its best is vivid and affecting, and the mysterious circumstances are creepy, the plot propulsive. (And let's say up front: Do not assume that anyone is safe; while events slow down after that opening kick, readers shouldn't get complacent about their favorite characters.)
It's an entertaining read. My (relatively minor) frustration is that the novel is as indebted to John Hughes as to John Carpenter. And I never much liked Hughes: all those teen types and the emo impact of adolescent angst. Sure, I hated cliques, and worried about getting beat up, and fretted about romance, and blah blah blah. But I didn't at the time get much kick from representations of my own so-called life, and I'm even less keen now at age cough cough mumble.
Wasserman's roots are in YA, and THE WAKING DARK is perfectly pitched for that constituency. I think it'll have an impact beyond for many other, older readers, as well; while I didn't enjoy Hughes, I respected his talent, and, like Hughes, Wasserman writes with care and compassion, despite the 'typing. —Mike Reynolds