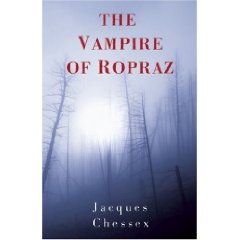 I've got news for all the 14-year-old girls out there: Those vampires in TWILIGHT? They're not vampires. But Jacques Chessex's THE VAMPIRE OF ROPRAZ. Now there's a vampire!
To wit, his damage: "The left hand, cleanly severed, is lying beside the body. The chest, hacked with a knife, has been entirely butchered. The breasts have been cut off, eaten, chewed and spat into the sliced-open belly. The head, three-quarters detached from the torso, has been pushed down into it after bites were made in it in several very visible places: the neck, the cheeks, the base of the ears. One leg — the right one — has been hacked up the thigh to the genital cleft. The pubic area has been sliced away and chewed, devoured."
To summarize: Edward Cullen is a wussy.
Chessex's short novel — 100 pages — was first published overseas in 2007, but Bitter Lemon Press now brings the Swiss author's work to these shores, with a matter-of-fact, unfussy translation from the French by W. Donald Wilson. The story is based on an true-life event that happened in 1903.
In the Swiss village of Ropraz, a young woman is discovered mutilated, exactly as you read above. The town is all abuzz about who would do such a thing — a vampire is the logical conclusion. He must be caught before he kills again. But he's not. Another victim is soon found, and another, all the same type of female, all destroyed in the same manner of savagery.
A break in the case arrives when some farm animals are found to be have raped — by one instrument or another — with saliva and sperm left behind in a manner matching that found on the dead women. When a socially inept farmhand named Charles-Augustin Favez is caught in the act of "having his way with a hobbled heifer," authorities think they have their vamp.
Or do they?
The book works because of its simplicity. Keeping the page count low makes the tale taut. Because it adheres to the true story, ROPRAZ doesn't follow the traditional, three-act thriller structure, so it doesn't culminate in a climax, but on a note of irony. You'd be disappointed if that were a novel, but in a slim volume such as this which can be digested in half an hour, it's rather fitting.
Chessex's — and Wilson's, one must assume — prose is lyrical, even for such a gruesome subject. Leave it to a literary treatment to remind us that real-life horrors are scarier than any fiction can conjure. —Rod Lott