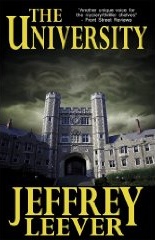 Young men are so easily swayed by young women. Take James Reed, for example. One moment, the Tremont University student is talking to a couple of girls; the next moment, he's disappeared. This doesn't go unnoticed by his friend Brett Duncan, who goes looking for him, and is lured by a mysterious woman into a dark space, where he sees a goat man.
But he doesn't find his pal. Brett alerts authorities, and enlists the aid of a professor, a journalist and a retired cop when uncovered clues suggest James' vanishing act and eventual fate may be part of a series of crimes perpetrated by an occult group, in Jeffrey Leever's THE UNIVERSITY.
Leever's writing has improved markedly over his debut novel, DARK FRIDAY. That horror thriller reveled in the elements of the 1980s slasher-movie genre, and this follow-up does the same, only in the realm of the occult pictures of the 1970s. Its college campus setting and on-the-verge hero also recalls more recent films like THE SKULLS and URBAN LEGEND. Movies seem like a natural reference point for the novel, not only because it is so informed by them, but also because it reads like one: swift, unfussy and highly visual.
With that come a couple of clichés, admittedly, such as the underground tunnels beneath campus and the appearance of the uncommonly kind custodian, whose character name may as well be Tony Todd. But clichés like those are effective — comfort food to consume along the sprint. —Rod Lott
OTHER BOOKGASM REVIEWS OF THIS AUTHOR:
• DARK FRIDAY by Jeffrey Leever