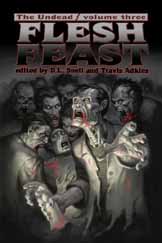 Funny how literature has done what film has not: keeping zombies fresh. The whole apocalypse and survivors-stuck-in-single-location thing has been done to, well, death. While recent zombie movies are content to tread this same path, the folks are Permuted Press know the trick in making the reanimated relevant lies in keeping readers on their toes. THE UNDEAD: FLESH FEAST is the third installment in the small press' short-story franchise, and perhaps the most inventive yet.
For instance, in a twist on I AM LEGEND, Ryan C. Thomas' "Spoiled Meat" features a man who can't get zombies to bite him. He simply can't bring his miserable, lonely life to an end, no matter how hard he tries. Have you ever read anything like that?
Early stories — like Michael Stone's "Memory Bones" and Rich Moore's "Basic Training," which respectively involve a doctor making a house call to a 149-year-old zombie, and soldiers having sex with headless female zombies — may give you pause, but the really juicy meat is just around the bend.
In "Deadtown Taxi," Matthew Bey follows a zombie who still plies his trade as a cabbie, employing Travis Bickle-like methods to save uninfected girls who apply out of desperation to participate in "Live Death Acts" at the local strip club. Meanwhile, A.C. Wise reimagines THE WIZARD OF OZ in "Killing the Witch," casting Dorothy as a witch herself, as well as the creator of The Scarecrow, whom she assembled not with straw, but others' dead limbs.
One of the more bizarro stories is the two-part "Fetalfied-Gigolo," in wich Andre Duza presents the disturbing tale of a woman who talks to the fetus inside her. The catch is that said fetus died 10 years prior, and never passed. It finally emerges, however, to take shelter in the body of a womanizing party guy. My favorite line is a throwaway to describe the mom: "She looked like a clown, the kind that killed folks."
A virtual ghost ship lands on a sandy beach inhabited by "cannibals" in Eric Turowski's "Ile Faim." There are enough of them to have the ship's crew soon saying, "We've got to get off this cursed place." As escapist as that tale is, Kevin Boon's "As the Day Would Quake" rocks with resonance. It explores the daily life of a FEMA "escort" who takes the infected to the "kennels." Things get personal when a "Seize and Retain" order is issued for his own daughter, whom he can't believe is sick.
With a delightfully delirious EC edge is "If You Believe." Scott Standridge opens this holiday number with a mall Santa Claus skydiving to the shopping complex parking lot, but splattering on the pavement when his chute fails. A little girl witnessing it is traumatized, thinking Christmas won't come because Santa is now dead. Her father reassures her it will, if she only believes. Given the book's theme, you can guess the ending; in a less specific collection, the coda would come as more of a surprise, but the story is still a highlight.
Closing out of the book is a weird Western from Tim Curran titled "The Legend of Black Betty," in which a plague going through town is diagnosed by Doc Rifer as yellow fever. But as we all know, yellow fever doesn't kill temporarily. The real object of blame is "some negro whore called Black Betty" who's into "spooky voodoo shit," and after burying his daughter twice, a grieving father goes on the hunt for revenge.
Included as an extra is an excerpt from D.L. Snell's novel ROSES OF BLOOD ON BARBWIRE VINES. It's nice to get a taste of it here, but BOOKGASM recommends you forego the few pages and spring for the full package. Snell is one of the editors of FLESH FEAST, incidentally, along with Travis Adkins, and they've done another terrific job assembling this all-you-can-eat buffet of terror. —Rod Lott
Buy it at Amazon or Permuted Press.
OTHER BOOKGASM REVIEWS OF THIS SERIES:
• THE UNDEAD: SKIN AND BONES edited by D.L. Snell and Travis Adkins
• THE UNDEAD: ZOMBIE ANTHOLOGY edited by D.L. Snell and Elijah Hall
OTHER BOOKGASM REVIEWS OF THESE AUTHORS:
• DEAD SEA by Tim Curran
• ROSES OF BLOOD ON BARBWIRE VINES by D.L. Snell