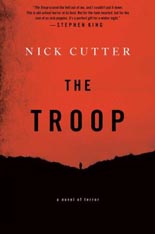 The goal of a really good pop mash-up is not to forget that you've heard this riff, not to see past the repetition of that particular plot device, not to ignore all the bits stolen from this Stephen King novel or that one. No, some of the pleasure comes from the way the text invites you to revel in your own expertise, sets up a call-and-response with the geeky fan/reader.
With THE TROOP, Nick Cutter (a pseudonym barely even trying to serve as a disguise) puts on that fake, porny name and a confident snarling smile, and takes no pains to cover up the novel's debt to various predecessors.
In a scenario lifted from LORD OF THE FLIES by way of STAND BY ME, the eponymous Boy Scouts — isolated on Falstaff Island off the coast of northeastern Canada with one lone, sort of dopey adult (Scoutmaster Riggs) — face down a terrible threat. And when civilized authority is stripped away, they face one another as well. (One of the boys comes out of his cocoon, revealing the psychopath gestating within — a dash of Iain Banks' THE WASP FACTORY to spice up the mix.)
The external threat is killer parasitic worms, genetically crossbred in a lab by scientists who (unlike the author) never saw SLITHER or read DREAMCATCHER. Thankfully, Cutter's the best kind of thief: He steals what works (e.g., ass-weasels) and dumps the dead weight (e.g., Duddits). And like the best thieves — and the premier pop artists — Cutter is an expert craftsman. THE TROOP is a lot of things you've seen before, but all of them are fun, and so is this novel.
Cutter is undeniably deft with characterization. His boys have personalities and the kind of soulful backstories that complicate but never clutter the central survivalist narrative.
And there's a grim philosophical conceit about the vulnerability of bodies — the sad, fragile reality of human physicality — that Cutter adroitly weaves in. One boy, Max, remembering an evening with his idealized, but aging father, and grappling with the worm's consuming transformations on the sad-sack scoutmaster, reflects on the inescapable: "All bodies fail, he realized. They fall to pieces in pieces, bit by torturous bit, and a man had to watch it fall apart around him."
Such thinking about materiality doesn't fog the relentless materiality of the plot. This is a book full of fluids, fleshy otherness, hunger, blood, bodies in all kinds of disrepair. And Cutter revels in the gore; even as he shakes his head somberly at Mortality, he leers at the bumbling silliness of the body. Throwaway lines — describing "a high schooler named Ernie Smegg, whose doughy carbuncled face looked like a basket of complimentary dinner rolls" — suggest how much fun the author is having. Anyone who's ever seen George Romero or Bill Shakespeare could tell you how thin the line is between tragic mortality and grotesque knockabout physical comedy. And it's no odds that an author who puts his boys on Falstaff Island knows how to map both sides of that line, too.
Ernie Smegg. That name has stuck with me. THE TROOP's plot or characters may not be all that distinctive, but the author's performance is memorable. It's thrilling, well-written, and entertaining as hell. —Mike Reynolds