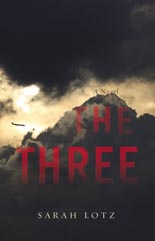 When you've swallowed as many horror novels as I have, you grow so familiar with the varied ingredients used that you tend to focus on a given author's particular craft in cooking and presenting the same old meal, or get excited by the occasional flourish of a new spice (even if the dish hasn't been fundamentally altered).
It's that rare day when someone sets a plate in front of you and in a flash of excitement you realize how wholly unfamiliar the experience is. And when that novel is not just novel but staggeringly good, you want the meal to never end, and you want to call all of your fellow diners to bark that they have just got to try this.
Sarah Lotz's THE THREE begins mid-air, as housewife Pamela May Donald frets about leaving her husband home alone with the dog, about seeing their emigrant daughter in her new job in Japan, about her Pastor back home.That nattering self-talk is interrupted by noise, anxiety, trouble on the plane–freaking out the inexperienced traveler, but just as she talks herself down, the plane bucks sharply, and dives.
Awakening to pain and fear in a dark forest, Pamela sees death all around her, but through the shadows a boy emerges, and she thinks she sees a crowd of footless wraiths behind him.Before she, like the rest of the passengers, passes away, she leaves a message on her phone about what she thinks she's seen.
That message seeds all manner of subsequent investigation.For Pamela's flight is not the only plane that went down that day.In very short order, four flights in four different areas of the globe go down, leaving almost no one alive.On that "almost" hinges everything: three children emerge, nearly unscathed, the sole survivors.And they seem to be different.
South African Lotz manages to spin a central mystery that keeps the reader off-kilter, unsure of her footing but never completely lost. Told as an oral history, a collage of testimonies from various players, Lotz stitches together a rich set of possibilities that each witness, from his or her limited perspective, keeps persuasively arguing.Pamela's pastor–who seems wholly unreliable–quickly latches on to a biblical significance, seeing Revelation and the End Times in every detail; others suggest alien intervention, possession.And yet those who see such interpretations as sensationalized hogwash find themselves unable to explain some events in their lives (a sinister dread attaching to one girl's every conversation, or an Alzheimer's patient strangely "returned" through his interactions with one boy).
Lotz slyly keeps the reader investing in different answers, believing different witnesses.This structure–which at first struck me as a gimmicky cash-in on the popularity of WORLD WAR Z–quickly becomes instrumental in Lotz's trickery: each of these first-person accounts sees just part of the story, is limited by the teller's biases and concerns.THE THREE races along, but we readers are never quite sure where we're headed.
And let me just say: she sticks the landing.The author has produced other work under other names (co-writing as S. L. Grey and, with another partner, as Lily Herne), achieving more notoriety in her home country and abroad.THE THREE ought to cement her reputation here in the States.It's a big, surprising, compelling humdinger of a horror novel.
You have just got to try this. —Mike Reynolds