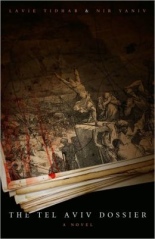 Throughout part one of Lavie Tidhar and Nir Yaniv's manic fantasia known as THE TEL AVIV DOSSIER, tornadic , sentient Things sweep through that city and sweep up all in their path, guzzling innards and spewing a "red rain" that blankets the streets and the few, crazed survivors.
The "dossier" here is a collage of testimonials — from a sociopathic fireman, a blogger, a motley crew of quasi-academic UFO investigators, an orthodox yeshiva student — that simply record the incomprehensible disaster fallen upon the city. The narrative stitches together these fragments, but there's no meaningful objective, no clear plot or quest or point.
Instead, gloriously precise prose crafts lucid images of lord knows what: It is a lunatic apocalypse, with little reason, but plenty of rhyming, riotous imagination.
Had the novel kept its sights focused on just this Lovecraftian disaster movie, we readers would be well-satisfied. The horrors are outsized — unfamiliar, but somehow graspable — and even in collage form, there's an impressive impact. I found myself toggling between a sense of terrible confusion and that strange, giddy delight in outsized destruction. Some readers may be frustrated by the anarchic structure, but I was dazzled by the sheer lunatic ambition of the authors.
And then Tidhar and Yaniv chuckle up their sleeves and — unfettered by any typical constraints of cohesion or generic boundaries — boast that you ain't seen nothing yet. For three more parts, the two pile mythology onto mythology, cram entire, densely imagined subcultures into every three new paragraphs. On the new mountain beyond madness at the heart of the city, tribes of survivors each formulate their own complicated creeds to make sense of this post-apocalyptic world.
Children run in packs, scavenging from the "pokemons" dead by the side of the road; the Firemen await the return of the One Fireman who spoke with God, while the Templars seek to battle back the ungodly, while slavers grab up survivors to work in the mines. The Israeli government sends a top operative up the mountain to grapple with the new reality. An egotistical (and marginal) occult historian makes his own quest, seeking a revelation that will at least reveal his superiority to his hack rivals.
And so on. And so on.
A release of ChiZine Publications, THE TEL AVIV DOSSIER never makes much sense, but it is never less than sensational. It is Lovecraft via LOONEY TUNES, dense with pop allusions, but just as beholden to the Bible and cross-cultural folklore. I know some readers will grumble over the lack of focus, may even rightly see more of an acid dream than carefully crafted artistic form … but it's a trip unlike any I've taken.
In a field so often so thoroughly plowed, it's pure pleasure to come upon someone dreaming up whole new worlds of horror to explore. —Mike Reynolds