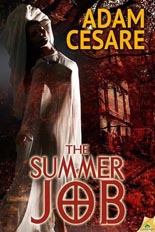 In the prologue to his latest novel, Adam Cesare sends a very likable — a quickly yet expertly sketched — retired couple wandering into the forest, happening upon a Dionysian campfire party populated by scruffy but polite young people. A bonfire roars and plastic cups filled with a potent alcoholic concoction are tossed back. The older couple first revel in the memories of a youthful energy and release, but as the dancing gets more frenetic and frisky, their pleasure shifts to apprehension.
And then things go south.
This opening to THE SUMMER JOB is unhurried yet wonderfully urgent, shaping a sense of dread which Cesare milks throughout the novel. What exactly is going on?
The novel shifts point of view to Claire, a punk waitress looking to grow up a bit, dumping her dipstick boyfriend and leaving Boston for a new job that promises a chance at rebirth. She ends up in the small town of Mission, working at the Brant Hotel, a location and job that feel preserved from some earlier decade. As she begins to peek past the conservative facade, whispers of strange rituals (and bonfires out in that thick forest) emerge, as well as hints of underlying tensions between the townsfolk.
Cesare — whose last novel, VIDEO NIGHT, was an inspired riff on sleazy, straight-to-video horror of the 1980s — tips his cap to an assortment of references here, too, not least THE WICKER MAN. (The good one, not the one with the bees.) But the homage is more subtle, and flavored with incisive allusions (including a dash of YOJIMBO, and one sneaky reference to SCOOBY-DOO).
THE SUMMER JOB also spends more time defining an array of complex characters. Cesare isn't just playing with icons, lost in postmodern referentiality. Instead, the sinister Ms. Brant, the scrappy Claire, the cultish Davey (and an array of others) each have moments in the spotlight, and the novel's exploration of how each are perceiving events deepens the novel's thematic richness, shifts focus from the gory rituals to the complex beliefs and behaviors which pin people to (or help them try to escape) their fates.
In short, it's a novel to get lost in, reminding us of classic horror tropes, but also mapping Cesare's own compelling territory. THE SUMMER JOB further illustrates this writer's promise — smart prose, a sophisticated sense of genre and plot, a keen eye for humor leavening the dread and excellent characterization. —Mike Reynolds
Buy it at Amazon or Samhain Publishing.