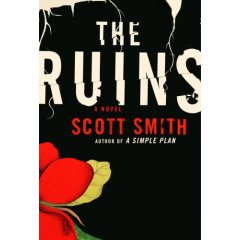 I have many reasons for not being the outdoors type, not the least of which are unbearable heat, swarming mosquitoes and dirty toilets. And now, Scott Smith's THE RUINS gives me another half-dozen to add to the list. Finally following up his 1993 bestseller A SIMPLE PLAN (and the eventual film's screenplay, for which he rightfully won an Oscar nomination), Smith returns with to equally disturbing but far more sinister territory with a movie-ready adventure that is terrifying, tragic and altogether terrific.
Four Americans – two male-female couples – are vacationing in Cancún to celebrate their college graduation. Among the fast friends they make in their lazy days of sun, sex and suds is Matthias, a young German whose brother goes missing with a supposed hook-up. When enough time has passed to worry genuinely, the grads – mostly at the behest of the always-be-prepared Jeff – agree to help look for him, with the aid of the absent brother's hastily drawn map. The route takes them away from their touristy paradise and deep into the Mayan jungle toward the site of an active archaeological dig, but no archaeologists to be found.
What they do find is something they never would have expected, and something I hope you wouldn't, either, which is why I'll say no further about the plot. Shy away from reviews that may spill the beans; it's not an earth-shattering twist by any means, but if you enter fresh, your enjoyment will be that much heightened. And even though I knew it going in, I enjoyed the hell out of it.
It's not for nothing that Stephen King used the pages of Entertainment Weekly to declare this the read of the summer. Though I can't quite go that far, I do share his sheer enthusiasm for a novel that, in lesser hands, would fall to formula. Smith's characters – though realistically self-absorbed and feeling invulnerable as most college-aged people do – are not the smarmy, cut-outs that play to stereotypes. You care about them, even with their petty problems, whereas other horror novels would have you rooting soundly for their quick, messy demise.
The press is taking the easy way out by namedropping TV's hit LOST as a point of comparison; I think its ancestry exists more in William Golding's classic LORD OF THE FLIES; as hopes of rescue seem less and less likely, insanity starts to set in, bonds are broken and the enemy becomes each other as much as the threat of nature. Smith is an excellent writer, whose dialogue is among the most believable of recent memory and whose descriptions have a palpable sense of poetry to them, even if they're giving the details of a dog caught in the process of defecation. But even with strikingly sharp prose, THE RUINS is not afraid to get its hands very dirty. Indeed, there's a scene about halfway through concerning an act that, once brought up, had me cringing at the very thought of it. When it was brought to fruition, it was even more gruesome than I had imagined. And then there's even one that proves sicker. And then another.
It's a dose of highbrow horror that will appeal to both mainstream audiences and fervent gorehounds, without pandering to either. It's simply interested in telling a scary story very well, and succeeds. –Rod Lott

"Her hand was resting on his stomach, and without really thinking about it, she slid it down his body, slipping beneath the waistband on his boxers. She touched his penis, tentatively, the sleepy softness of it, let her fingers rest on top of it. She wanted to make him hard, wanted to jerk him off, wanted to feel his body arch as the sperm spurted out of him. She believed she'd find some comfort in this, some illusory sense of safety. So that was what she did. It didn't take long. His penis slowly stiffened beneath her touch, and then she began to stroke him, fast, grimacing with the effort. His breath deepened, with a rasp hiding in it, and then – just as her arm was beginning to ache with the exertion – rose to a moan as he climaxed."