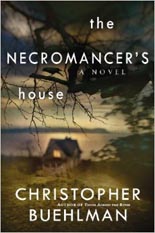 Earlier this year I struggled mightily with a misfire of a novel that mashed up high-falutin' fabulism, a romantic farce, Cold War shenanigans and Russian folklore centered around the witch Baba Yaga. Praise be ambition: As much as I dig celebrations of the tried-and-true in genre fiction, I'm equally keen to see a talented writer rip up the playbook and reinvigorate our sense of what horror and dark fantasy can do.
That said, the book I'm talking about? Yeah, it was heavy lifting. The mash-up was mere mishmash, the book sold on its own slick whimsy. A dud. A whole lot of gunpowder and no spark.
So imagine my anxiety when another novel comes along with Baba Yaga and her chicken-legged house stomping about new territories. Christopher Buehlman's THE NECROMANCER'S HOUSE is set in present-day upstate New York, The story takes another adult spin on magic integrated into the muggle world, stitches in mythologies from various cultures (Russian and Slavic folklore, this hemisphere's Voodoo roots), and traces analogies to the new myth-magic of hacking and cybernetics.
Oh, and there's a sexually mismatched romantic entanglement at the core. And a fair bit of engagement with the impact of addictions (and AA founder Bill Wilson has a small but substantive cameo). And a dead dog's spirit is reincarnated with a wicker torso, prosthetic legs and a Salvador Dali painting as its head.
So, yeah. There's a lot going on here, too.
And Buehlman nails it.
I probably should have expected it. I read Buehlman's second novel first. BETWEEN TWO FIRES — a quest set during the Black Plague, imagining a war between God and Satan behind and exacerbating the ravages of disease throughout Europe — was a stone-cold surprise. Its constituent parts all tend to bore me: the historical period (unless everyone's knocking coconuts as they gallop about), religious arcana (unless Christopher Walken is one of the warrior angels), ornate quasi-historical language (unless … well, pretty much never).
That novel, too, was utterly engrossing, and I will note in passing that I then immediately bought and read his first, THOSE ACROSS THE RIVER, a wholly different beast, set in depression-era America, dealing with race, class and the undead, with equal satisfaction.
THE NECROMANCER'S HOUSE is the best of the lot, which is saying something. The novel follows a warlock, Andrew Blankenship, hiding near Lake Ontario. He's got a dark, sad backstory and a deep-seated alcoholism. And he attracts a few strays — magical "users" and some more mundane — into his orbit, including a fellow-addict lesbian sculptress with a talent for stone magic and a "rusalka," the dangerous water-spirit of a suicide who sets the plot in motion by drowning a mysterious Russian man living in a cabin nearby.
The book is full of twists and breathtaking set pieces, but Buehlman also is deeply committed to his cast, engendering real emotional investment in the main characters while embodying an array of strange and wonderful people (and creatures) throughout. It can also be quite funny.
The novel is a rich, strange feast for readers. It's going to be hard to find a better Halloween present this year. (I'm looking at you, Stephen King.) And Buehlman is yet another bombshell in the glorious explosion of talent in the field. Highly recommended. —Mike Reynolds