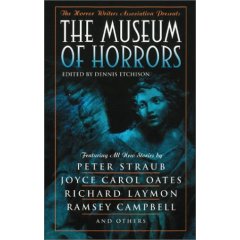 The award-winning THE MUSEUM OF HORRORS is a 2001 anthology featuring 18 all-original "tales of terror and the grotesque."
The always reliable Joyce Carol Oates kicks it off with "The Museum of Dr. Moses," while Gordon Linzner offers a satisfying revenge tale ("Author, Author") and Darren O. Godfrey tells of a disturbing childhood tragedy in "Inland, Shoreline." Even more disturbing is the wonderfully gory "Hammer-head," from the late Richard Laymon, and Peter Straub teases with "Perdido," and then leaves us hanging, because it's merely an excerpt from a work in progress.
Other authors include Ramsey Campbell and LOGAN'S RUN creator William F. Nolan. All in all, it's a worthy edition from the paperback gang at Leisure Horror.