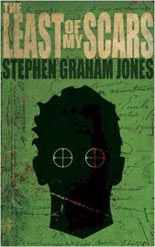 Serial killer William Colton Hughes is doing quite well with the Bundy model, like a shark never stopping to sleep, moving from hunting ground to hunting ground. He's not interested in the limelight and lurid spectacle. As he puts it, "if you've gone nationwide, you should be ashamed.
"To live on that screen is to die the moment the jackoff on the couch looks away. To really live is to waver at the edge of an open-eyed dream, so that everybody's always jerking their head around, sure you're there."
So he abides on the margins, just out of sight, enjoying himself. Until one day, he grabs the wrong yoga instructor and has his attentions interrupted, the electricity shutting off and the garage door of his storage unit sliding up and Singer — a very, very bad man — walking in with his crew, furious about this particular victim.
Rather than simply dispatching Hughes, Singer sets him a task: Dispose of the body. The gangster et al. will be back in a very short day or two, and if there are any traces of the woman left, Hughes will find a fate no less painful than this most recent victim. They exit, and shut and lock the storage unit. In pitch black, with no other way out, with no corpse disposal materials — no hacksaws, no acid or vat, no shovel, no pipes — Hughes considers his options. And he takes care of things.
Singer rewards him with a spider web to call his own and a frequent supply of flies. In the upper floor of a half-deserted apartment building, in an inconspicuous but immaculately controlled apartment, William Colton Hughes waits for that occasional knock on the door. Whoever arrives, whatever their mission or their sense of things, they become his. "All these luckless-ass people" coming in, wanting to meet him, "their unmaker."
There's no reason to think Stephen Graham Jones, despite the prominent three-part moniker like his creation (and so typical of so many other serial killers), is anything other than a wickedly creative writer. And thank the lord that he sticks to prose, because the man can seriously imagine some awful, awful things. THE LEAST OF MY SCARS is a fantastic, and fantastically nasty, novel.
Jones is also a master at reinvigorating a tired old construct like zombies or (as here) the protagonist sociopath. There's no lack of precedents; even setting aside the cheap paint-by-number psychopaths of 8 billion airport suspense thrillers, it's hard to shake the legacy of Thomas Harris' Dr. Hannibal Lecter. Jones uses first-person narration to get us inside Hughes' head — a most discomforting space — in ways that echo Joyce Carol Oates' ZOMBIE or the cold-blooded sheriff of Jim Thompson's POP. 1280.
But Jones is no hack act — the clever way he pulls Hughes off the street illustrates the author's ability to pull rabbits out of dusty, moth-eaten hats, and it is just one of many tricks up his sleeves. SCARS will surprise even the most jaded of us readers, as often with its sneaky attention to character as with its sly reconstruction of generic conventions.
As Hughes finds himself stalked by a mysterious woman, the novel manages magic moments I never saw coming. This novel is bleak, but strangely heartfelt, too — brutal and often blackly funny, but never casual or thoughtless. This is smart, sharp horror-noir, and another great novel from Jones. —Mike Reynolds