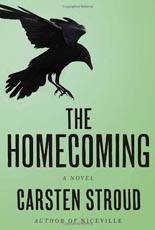 Carsten Stroud made his bones with police procedural nonfiction (the stellar CLOSE PURSUIT) and fiction (a steady stream of strong thrillers, begun with 1991′s SNIPER'S MOON). And like the best in the crime business, his work has always been marked by an attention to character and dialogue you can chew on. The propulsive plots (he can structure a bit of action as well as Lee Child) are a helluva thing, but I return to his work for the vivid complexity of the people engineering or investigating the misbehavior.
So news that he was tackling a genre mash-up of PEYTON PLACE soap-operatics, his bread-and-butter cops and criminals, and supernatural shenanigans more commonly found everywhere in Steve King's small-town Maine … well, it gave me pause.
NICEVILLE came out to some raves and some head-shaking, some critics pushing the plate away as too full of mismatched ingredients. And it ends in media res, major events erupting but unfinished (one climactic moment literally hung on a cliff), with promise of an ambitious trilogy.
Why should you commit to a(nother) trilogy? Here's why: Whatever he's writing about, Stroud is writing. The dialogue sings, the action fueled by careful character development (and vice versa), and there is the un-simple pleasure of superb storytelling.
NICEVILLE is a high-wire act, or rather an act juggling torches and nail-crusted baseball bats and a couple of helium balloons while tiptoeing on a thin wire over an abyss. There is a brutal heist, some mysterious artifact sought by a top-secret R&D defense agency and Chinese spies, a boy kidnapped and then discovered weeks later in a sealed coffin under untouched grass in the local cemetery, the thick dysfunctional history of smalltown Southern America, and — oh, yeah — ghosts.
The nutshell version does no justice to this complexity, but let's say: some historic evil lurks behind and seems to be stage-managing events in Niceville. This first novel never really explains as much as tentatively maps the interconnectedness of the Mystery. Yet it works like gangbusters. The pieces only begin to hint at synchronicity, but while Stroud's juggling and the reader's still not sure what's what, the performance dazzles.
I reached for THE HOMECOMING with high expectations. And at first felt let down. Here is where I step back and note two different set of readers. Those who've not read NICEVILLE could, without too much hassle, pick up the story here. The opening section of this second book recaps with a great deal of skill the core plot strands and outcomes of book one. (A reader unaware that the first novel even existed could simply enjoy that opening segment as a complicated rush that complements the whole's tangled but clear-eyed plotting.)
However, those of us who've read book one, particularly those of us who just read book one a few days in advance of book two, might get dispirited by what seems a shift away from Stroud's strengths in showing rather than telling — a turn toward the common failing of the long-form series, where the proliferation of characters and circumstances demands a near-constant flood of expository info-dumping. And this second novel never really escapes the troubles of the second-of-three books: Much gets explained, although many pieces are still being moved about into place for the final resolution to come.
But wait! Once Stroud gets the balls (and bats and balloons) back in the air, THE HOMECOMING recovers its confident multi-track plotting and roars right back into high gear. Stroud has crafted a convincing backstory for (parts of) the central mystery which reveals without demystifying. While "big picture" events percolate (particularly the ongoing story of the previously kidnapped boy, who appears to be more than meets the eye), he defines a couple of very satisfying closed arcs (a corrupt yet falsely accused security consultant escapes police custody; a new character, a nasty piece of work with a fondness for electric drills, is hot on the trail of the lost haul from book one's big heist). And, as always, there is the punch and buzz of prose–particularly whenever his characters start jawing–that offers its own high-caliber thrills.
THE HOMECOMING is a fun, strange, thrilling ride — a worthy second that meets the promises made by NICEVILLE and makes its own for the forthcoming conclusion. —Mike Reynolds