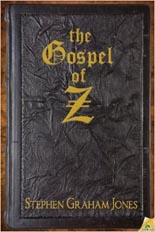 The correct answer to the question "Why the hell should I read another zombie novel?" is another pair of questions: "Why the hell have I never read Stephen Graham Jones before? And where can I get more of his stuff?" Finding more of his work is a piece of cake; he makes Takashi Miike seem like a slacker.) But maybe start here.
THE GOSPEL OF Z shuffles into a market crowded with walkers, biters and sundry undead. For every fantastic zombocalypse, there are 6,000 sluggish retreads. Many writers opt to set aside the resurrection of all ye olde conventions for wholesale re-imagining, or a sly mining of expectations in a slipstream literary reboot.
Jones, however, doesn't just return us to familiar zombie roots; he acts like no one's ever really written one of these before, like the whole landscape is his and his alone to roam. Like the best genre writers, he fully inhabits without slavishly repeating familiar tropes. As the title brags, it's like the finding of some biblical ur-text that existed before all those others.
It's 10 years post-Z-day, and survivors opt into two camps living in parallel, in uneasy truce. A new Church hides behind vows of silence and colossal walls, seeming (it's whispered) to worship the dead as the larval promise of some new Heavenly world. Meanwhile, the military commandeer civilians for factory work or dangerous clean-up duty beyond the walls, and they're busy crafting new tech to cleanse the world of infection.
One of Jones' most brilliant inventions is the Handler, "seven and a half feet of seriously augmented killing machine" cobbled together from "volunteer" bodies, a shitload of wiring and steel and fiber optics, and an engineered form of the virus that prevents transmission. In other words, superzombies. Their job? They hold onto a captured zombie that acts as a sniffer during the clean-up ops. (If the captive zombie doesn't eat a body found in the empty buildings being scoured, then that corpse soon will rise again. And need cleansing.) Luckless civilians tag along and direct these behemoths, hoping they doesn't let the other beast off the leash.
Jones' world is replete with such wonders. As noted earlier, this writer confidently remaps the familiar environment of zombieland. This fully imagined post-apocalypse is revealed with a casual grace instead of dull exposition, creating the kind of genre gee-whiz-never-thought-of-that we all seek while also teasing out the essence of why the genre seems to matter so much to us. Musing on the "blogs" that used to be, the hero wonders about how much time people spent "sculpting the version of themselves they wanted to be true," while now, with "everybody packed together over small fires in the middle of what used to be lobbies and restaurants," people protected what they showed others — otherwise, "it would be like scratching a wound open."
For all the narrative fireworks and philosophical trappings, the novel's focus is on character development and the story arc bending toward redemption or annihilation, centered in his hero, the "more or less white" Jory Gray. Gray's girlfriend has left him for the Church, and he's driven by a desire to figure out why. That personal motivation lands him smack-dab in the middle of a bigger "why," as the conflicting purposes of the Military and the Church bat Jory about like a pawn. Gray is a classic lost soul — smart-assed but sincere, empathetic, the perfect avatar for reader identification as he discovers the broader world and conflict around him.
Enough of a rave? I'll say in closing that Jones nails the writer trifecta. In addition to a kick-ass zombie reinvention and a damn fine central character and story, he writes prose that kicks and snarls and surprises. Even as I was racing along, wanting to see what came next, I kept rewinding to savor a line, a paragraph, a chapter, caught up in the playing as well as the song.
Samhain Publishing's THE GOSPEL OF Z is a hugely entertaining and smart zombie novel, by a writer I can't wait to keep reading. —Mike Reynolds
Buy it at Amazon or Samhain Publishing.