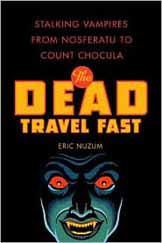 After noticing how omnipresent references to vampires are in everyday life, pop-culture critic Eric Nuzum decided to undergo an adventure to better understand the creatures of the night. The result is chronicled in THE DEAD TRAVEL FAST: STALKING VAMPIRES FROM NOSFERATU TO COUNT CHOCULA.
Yes, it's another "stunt book," but I like stunt books when they're done right. This one is, although it's not an outright stunner. It is, however, a pleasant journey into areas I'd personally rather not travel. Thankfully, Nuzum did it for us. This includes, first and foremost, drinking his own blood to see what the allure is. Turns out, none, because he vomits it all over his bathroom.
He also fails in efforts to watch all 605 vampire movies ever made (I suspect there are more), finding so many of them unwatchable (topping his list: VAMPIRELLA) that he gives up before he's even halfway done. Later, he succeeds with the full run of TV's BUFFY THE VAMPIRE SLAYER, despite not being a big fan of TV.
He fulfills a dream of getting to play a vampire in a Halloween haunted house, although the gig proves ridiculously difficult to secure. He attends a meeting at a local restaurant with a group of people who actually think they're vampires; to his surprise when he walks in, Nuzum finds them all to be African-Americans, and proceeds to embarrass himself by asking typical white-guy questions.
He embarks on a rather nauseating trip to Romania with a tour group led by THE MUNSTERS' Butch Patrick. One particularly annoying and perpetually late fellow traveler turns out to be a gambling addict, and has a hard time keeping down any food, which is understandable, given the locals' idea of corn and fried eggs as pizza toppings.
In subsequent chapters, he also takes in a topless, vampire-themed Vegas show; jets over to England to see where Bram Stoker penned DRACULA (heard of it?); explores the madness behind the role-playing game VAMPIRE: THE MASQUERADE; checks out Forrest J. Ackerman's collection of movie memorabilia; and crashes a rather depressing DARK SHADOWS convention, where practically everyone in attendance uses a walker or wheelchair.
What's amazing is how identical the idea of DEAD TRAVEL FAST is to Paul Bibeau's SUNDAYS WITH VLAD. I don't know who copied whom (or whether mere coincidence was at play); Nuzum's book beat Bibeau's to the shelves by a little less than one month, and while there is some subject overlap between the two, both books are recommended. Bibeau's may be more noticeably fun, but Nuzum's is slightly better crafted. —Rod Lott