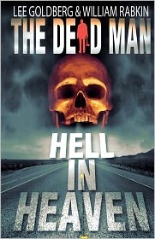 THE DEAD MAN series has become one of my favorite things to look forward to on a monthly basis. On top of that, they are lean and mean reading material, and the third book, HELL IN HEAVEN, amps up the mean aspect. For fans who have been wondering where the ax has been, it's back in a big, bloody way. For new readers, it's best to at least read the first book in the series, which lays the foundation.
This time, we find Matthew Cahill riding a beat-up motorcycle instead of hitching rides. From that point, you know Cahill is in trouble, especially when he takes an exit marked Heaven, and arrives in a town that looks stuck in a time warp. We are talking seriously local, with no makings of the 21st century: no strip malls, fast food restaurants, or branded clothes. And then there is the huge banner.
It reads, "Welcome Home Matt." He should turn around then and there, but this being a postmodern pulp, we know full well he's there for the duration. What is weird to Matt is that he does not see any of the evil in anyone, as his power normally allows him.
The townspeople are welcoming to the stranger, and explain the sign was meant for a local resident returning from Army service. Of course, their hospitality is just a ruse, giving Matt has some serious business to handle, such as blood and gore spilled at his hands. The terror ramps up from there, as Matt finds out the truth behind the eye-for-an-eye town and his reasons for being there.
Co-authors Lee Goldberg and William Rabkin seem to revel in making THE DEAD MAN: HELL IN HEAVEN be as over-the-top as possible, while always keeping readers entertained. For anyone who has not taken up in the world of Matt Cahill yet, you are missing out on some truly crowd-pleasing fun. Sure, it may not be book-club material, but what are you expecting, JANE EYRE? —Bruce Grossman