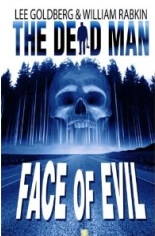 THE DEAD MAN: FACE OF EVIL, a short novella from the very prolific authors Lee Goldberg and William Rabkin, is the first step in an intriguing series, for which this lays the groundwork. Matthew Cahill is a likable guy, a person you can always depend on and who looks out for his friends. But he was left frozen under an avalanche for three months and lived.
Once revived, Matthew has bizarre dreams involving, at first, an evil clown. These dreams seem so real and surreal all at the same time. The basics of the plot tell of his life before he became a human Popsicle, as we watch his job at the mill become nonexistent; his best friend, Andy, finally fessing up to a childhood prank; and then Matthew dealing with the loss of his wife.
Now fully back into the real world, Matthew sees life a bit differently. When he runs into his old friend — who now occupies Matthew's house, having been bequeathed it in Matthew's will — Andy seems to have a hole in his face with pus and maggots freely coming out. Matthew, of course, is the only person who can see this.
Goldberg and Rabkin really go for the gore factor in this story with a nice dose of humor. I'm hopeful they continue with this character since it's set up so well. I've not seen a writing tandem like this since the glory days of Richard Sapir and Warren Murphy who wrote a pretty prolific series back in the day. —Bruce Grossman