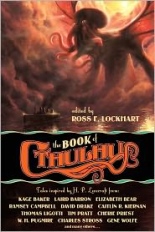 During his life, H.P. Lovecraft corresponded with a group of fans, many of whom were aspiring writers themselves, who were so inspired by his pulp tales of the banished Elder Gods that they wrote their own stories using the same themes and thus contributed to what would later be known as the "Cthulhu Mythos."
Lovecraft never envisioned that his stories and novels work would remain continuously in print for decades after his death, culminating in a collection published by the prestigious Library of America. Nor did he know that countless authors would carry on the Mythos to this very day.
Now, Ross E. Lockhart, managing editor of Night Shade Books, has gathered together 27 contemporary Mythos stories for his first anthology, THE BOOK OF CTHULHU. It is not the first such collection — indeed, many of the stories appearing here were first published in similar Lovecraft-themed anthologies. But thanks to the wide variety of contributing authors, as well as Lockhart's keen understanding of horror fiction and Lovecraft in particular, it is the best of such anthologies out there.
At its most basic, the Mythos states that a group of horrific deities (including Cthulhu, Yog-Sothoth, Nyarlathotep, and others) who once ruled the planet are now banished to a parallel world and worshiped by cults and individuals who attempt to return these "Great Old Ones" to their ruling status, often with disastrous results. Many authors use Lovecraft's understated tone while transporting the setting to a slightly later period.
A fine example of this is "Andromeda Among the Stars," the Caitlin R. Kiernan story that begins the collection. It's a moody and effective tale of the Mythos appearing amidst the conflicts of the world in the mid-1900s and one family's sacrifice to keep the Elder Gods in their place. Gene Wolfe, known for his dense, complex science fiction and fantasy stories, contributes a similar tale in "Lord of the Land," where a Nebraskan folklorist interviews a rural family to learn of their encounters with an unworldly "soul sucker."
 
Other authors bring the Mythos further into the contemporary world. Most notable among these is Charles Stross' "A Colder War," where a portal to the world of the Elder Gods is discovered by modern technology and used as one of the arsenal of potential weapons in the standoff between the super-power nations of today — a theme Stross would later expand in his novels THE ATROCITY ARCHIVES and THE JENNIFER MORGUE, and other similar stories. Ramsey Campbell, a novelist who has often displayed his Lovecraftian influences, presents a contemporary journalist whose disturbing dreams leads to his investigation of a secret cult of worshipers heralding the return of the Old Ones in "The Tugging."
 
Further proving the range of different authors touched by Lovecraft is the wonderful Joe R. Lansdale. His "The Crawling Sky" incorporates his recurring character of Reverend Jebediah Mercer, the damned but determined battler of evil, whose wanderings take him to a small town in East Texas plagued by a monstrous deity minion. And T.E.D. Kline's "Black Man With A Horn" is distinguished for its first-person narrator who was once a contemporary and correspondent of Lovecraft.
 
For all these varied contributors — which includes such renowned authors as Kage Baker, Brian Lumley, David Drake, Laird Barron and several others — THE BOOK OF CTHULHU is amazingly consistent in quality, even while the stories inevitably vary in their attempts of frighten.
 
Highly recommended, but obviously not for the uninitiated. Those who somehow missed seeing why Lovecraft is now considered the literary links between Edgar Allan Poe and today's modern horror writers should first find one of the many available Lovecraft collections, settle in with stories like "The Call of Cthulhu," "At the Mountains of Madness," and "The Dunwich Horror," and then make room on their bookshelf for Lockhart's excellent anthology. —Alan Cranis