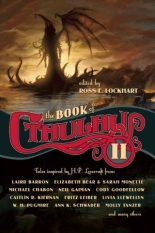 Last year, Night Shade Books managing editor and horror-fiction aficionado Ross E. Lockhart collected the finest stories inspired by H.P. Lovecraft for THE BOOK OF CTHULHU. It immediately distinguished itself as the finest anthology of its kind available.
 
A year later, Lovecraft's popularity and influence still grows, so Lockhart returns with THE BOOK OF CTHULHU II. And the best news of all: This follow-up anthology is every bit as fine as its predecessor.
Although similar in their use of the Lovecraft mythos of the dreaded Cthulhu and the rest of the Elder Gods, these stories are as varied in their style and approach as the authors themselves.
Take, for example, "The Terror from the Depths" by Fritz Leiber, one of several writers who corresponded with Lovecraft during his formative years. It's a classically and traditionally structured story of the life of scholar Georg Reuter Fischer, found in a manuscript hidden in a tomb. In somber and reserved tones befitting an academic, Fischer recalls his lifelong exploration into the Elder Gods, culminating in a fateful attempt to recall them to Earth.
 
Compare this with Neil Gaiman's "Shoggoth's Old Peculiar," where the popular contemporary fantasist pays tribute to Lovecraft in a lighthearted tale of a young American on walking tour of the British Coast who happens upon the village of Innsmouth and meets two local gents in a pub who casually announce themselves as acolytes of Great Cthulhu.
 
Further proof of Lovecraft's vast appeal is the contribution by Michael Chabon, one of the handful of celebrated mainstream authors who frequently acknowledge their debut to horror and science fiction. In "The God of Dark Laughter," first published in THE NEW YORKER, Chabon tells the eerie story of the investigation of the murder of a circus clown in a small Midwestern town, and the revelations of the victim's background that forced the district attorney narrating the story into an early retirement.
 
Four of the 24 total stories were written specifically for this compilation. One is "I Only Am Escaped Alone to Tell Thee," by Christopher Reynaga, wherein another, lesser-known surviving crew member of the doomed ship The Pequod finally reveals that the whole "white whale" story was just a ruse, and tells of the beast that really obsessed mad Capt. Ahab.
 
Other stories, dating back as far as 1974, include those by Laird Barron, W.H. Pugmire, Caitlin R. Kiernan and several other notable authors. At just under 430 pages, Lockhart probably decided there was not enough room to include biographies of the contributors, but a publishing history of each story is featured.
 
It's nothing short of amazing how many different authors have been moved to contribute to the legacy of H.P. Lovecraft, even nearly a century after his death. Fortunately editors like Lockhart are here to direct us to the very finest of the hundreds of such tributes.
 
Lovecraft fans, both old and new, are a ravenous bunch. So here, in THE BOOK OF CTHULUH II, is a generous second helping. Come and get it! —Alan Cranis