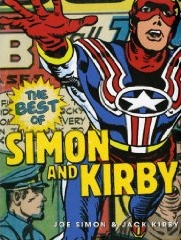 After hearing for years and years about how great the comic-book creative team of Joe Simon and Jack Kirby was, I finally "get it." All it took was reading the pair's THE BEST OF SIMON AND KIRBY, a fabulous hardcover collection from Titan Books.
Sure, I've read their stuff plenty times before, but as a kid, I was unaware of things like "writers" and "artists." And anything in adulthood has primarily been their superhero stuff, which as it turns out, is their least dynamic genre. This book offers several examples from that subject, as well as sci-fi, war, romance, crime, Western, horror and even humor.
Each section is prefaced by an excellent introduction by Mark Evanier, placing the stories that follow into historical context and discussing what worked and what didn't, both creatively and commercially. These are quite helpful, pointing out nuances and nuttiness that you might not pick up on otherwise.
This being from Titan, you'd expect it not to feature any Marvel or DC material, but lo and behold, it does, with a story each featuring Captain America (their most popular creation) and The Sandman. More interesting to me were their lesser-known heroes, primarily for the reason of being comparatively unheralded, including The Fly and Stuntman. Blue Bolt also qualifies, and he's featured in the science-fiction section, which also boasts the story with the tee-hee title of "The Tree Men of Uranus."
But the Simon and Kirby touch really starts shining through on the third chapter, "War and Adventure." There's a bizarre, meta Boy Commandos story in which those characters are presumed dead, and Simon and Kirby pace around their office wondering just what the hell they're going to do. Much more serious is "My City Is No More," is sobering tale of nuclear apocalypse that first plays like an innocent caper before taking a hard right.
Their romance stuff is a hoot, which shouldn't come as a surprise, since they invented the genre in its illustrated form. Pay particular attention to "The Savage in Me!" for its political incorrectness: Its blonde beauty of a protagonist is practically raped by some egotistical military guy she's just met. Not only does she falls for him, but surrenders her identity — when she finally gives in, he calls her by name, only to be corrected: "No, Donovan — your woman!" Ah, young love!
Datedness also helps make the crime section a blast, with a chump in the proto-CSI tale "Trapping New England's Chain Murderer" spilling all to the cops because his addiction has broken him down: "I … need a marijuana! I gotta have a reefer! Okay! I'll talk! Only give me a smoke or I'll go bats!!" Other crime tales tell the true stories of Ma Barker and Scarface.
Their Western stuff is wonderfully colorful, and the best of the lot here features a do-gooder character named Bulls Eye, who deserved a longer life than he got. Horror is next, with typical fright tales of the period, but it's worth noting that Simon and Kirby generated many of theirs by adapting dreams sent in by readers. That may not be the best way to get a lucid script, but at least it's different, and lets Kirby's imagination run wild.
So-called "sick humor" finishes out the book, with half of the examples coming from Simon's one-time MAD competitor, SICK. Humor clearly wasn't their forte, although you can tell they had fun doing it. The most successful story here is a "20,000 Lugs Under the Sea" movie parody; an Archie-style "Rainy Day with House-Date Harry" story is cute, but pointless. And then there's a spread of illustrated Lenny Bruce jokes — I hate to shoot at sacred cows, but if this represents the best Bruce gave, he's woefully overrated.
The boys clearly brought the best out of each other, with Simon scripts that generally were economical in terms of dialogue, thus allowing Kirby to let visuals do some of the talking, thus granting the entire thing a fluidity that one rarely sees in today's mythos-heavy, continuity-complicated illustrated fiction.
This represents the first of a series for Titan, with subsequent volumes to zero in on several of the individual genres whose surfaces are merely scratched here. Based upon that initial taste, they all look like keepers. —Rod Lott