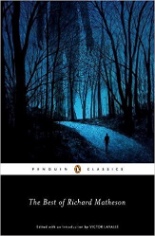 If you are a fan of classic TV and current movies, you are familiar with Richard Matheson without having read his works. Matheson wrote sixteen episodes of the original TWILIGHT ZONE television series (several adapted from his own short stories); his story "Duel" was the basis of an early Steven Spielberg feature; and his novels have been brought to the big screen as far back as 1957's THE INCREDIBLE SHRINKING MAN (the word "Incredible" added to the title of his novel), and no less than three official versions of his novel I AM LEGEND.
Yet while a few of Matheson's novels remain in print, collections of his many short stories are difficult to find. Now contemporary horror author Victor LaValle, one of the many authors influenced by Matheson, has selected 33 of Matheson's short stories for Penguin Classics' collection THE BEST OF RICHARD MATHESON.
Sadly, a serious printing error disrupts the story "Dance of the Dead," omits two entire stories ("Man with a Club" and "Button, Button") and leaves out the opening pages of the story "Duel" – making this less than the comprehensive collection promised by the title.
The stories that do appear in their entirety demonstrate Matheson's range of style and subject. "Born of Man and Woman," for example, is a devastating story of abuse conveyed by the protagonist in his own broken language. While in "Prey," a Zuni curio purchased by a woman as a gift for her anthropologist boyfriend suddenly threatens the woman's life.
There is also "Witch War," where a group of seven giggly, gossipy, teenage girls are an army's secret weapon. In "Where There's A Will," (written with Matheson's son) a man wakes to find he's been buried alive and, convinced his burial is a cruel joke, struggles to free himself. And in "Blood Son" an odd young boy, an outsider all his life, suddenly declares his ambition: to be a vampire.
A few of the stories show Matheson's dark humor. In "Counterfeit Bills" a man makes duplicates of himself to bypass the dull moments of life, leading to some unexpected complications. And in "The Funeral" a mortuary director discovers he has been employed to arrange a funeral for a client long since dead.
While most of the stories are science fiction or horror – the kinds Matheson is best known for, there are also stories that show his skill in other genres. "Dying Room Only," a straight-ahead mystery story, tells of a woman searching for her husband who disappeared after using the Men's Room at a small café. And "The Conqueror" is a western tale of a young man who makes himself over as a gunslinger to face a formidable foe.
But you'll also want to read the stories whose titles you recognize from THE TWILIGHT ZONE. That way you can better appreciate the dilemma of the protagonist in "Nightmare At 20,000 Feet" or the apprehension of the family and friends who depart their home in search of a new life in "Third From The Sun."
Victor LaValle's appreciative introduction details Matheson's range, strength, and wide-reaching influence, while recalling LaValle's own personal "Matheson moment."
Even with the disappointing omissions, THE BEST OF RICHARD MATHESON is highly recommended and essential reading for everyone who enjoys finely crafted stories. With luck, future editions will restore the missing and disrupted stories, so we can better appreciate what LaValle and the publisher consider Matheson's best. —Alan Cranis