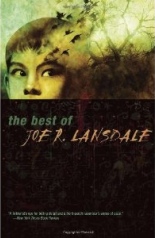 I'm convinced — absolutely convinced — that if Joe R. Lansdale didn't write in the realm of horror, America would be tripping over itself to praise him and hang literary medals around his neck. The guy is good.
And the book is THE BEST OF JOE R. LANSDALE, which is a bit of an untruth. I've never read a story of his that's bad — excellence seems to be a constant presence in the man's bloodstream — so one would expect the "best" of his work to fill something the size of a phone book or one of those multivolume treasuries that comes housed in a fancy-schmancy cardboard slipcase. Would you settle for 16 stories in 384 pages?
You have no choice, so nod your head, thanks the powers that be at Tachyon Publications for at least trying, and swallow your meds. I'll warn you, though: His Texas-fried stuff has quite a kick.
To those who haven't read him before, the Lansdale name arguably is best known for penning the story on which the cult film BUBBA HO-TEP was based. This is my first opportunity to read the original tale, and it's easy to see what attracted director Don Coscarelli to the material: a stew pot of bizarro elements, including — but by no means limited to — Elvis Presley, John F. Kennedy, a mummy and a nursing home. In others' hands, that recipe would fall flat; in Lansdale's, it's an effortless soufflé.
With a numeric structure, "Godzilla's Twelve Step Program" is a black-humored piece that portrays the screen's giant Japanese monsters as members of the working class — hanging out at the rec center, masturbating in front of the TV, awaiting orders from The Man. It's clever by the power of 12, and its spiritual brethren can be found later in "Duck Hunt," in which the target isn't actual fowl, and "Fire Dog," in which a man joins the fire department as a replacement for its dog. He even gets a suit to live in as a canine, and it turns his wife on. That's because she likes it doggie-style.
The longest piece in the collection — and perhaps the most serious — is "The Big Blow. Set in the days leading up to the real-life hurricane that devastated Galveston, Texas, in 1900, it focuses on a despicable, racist boxer who travels to town to enter the ring with a black man. You get so caught up in his story — and those of the other characters in subplots — that you forget about the approaching storm.
Another lengthy entry is "The Events Concerning a Nude Fold-Out Found in a Harlequin Romance," like no other mystery I've read. A down-on-his-luck single dad finds a pornographic doodle stuck in the pages of a paperback at a used bookstore, and a game of "what if?" leads him, his daughter and the store owner into quite the spot.
"Hell Through a Windshield" is a tribute to the good ol' American drive-in — quite the appetizer for Underland Press' new Lansdale omnibus, THE COMPLETE DRIVE-IN, which I can't wait to read — and more essay than fiction. It pairs well with Lansdale's new introduction to this book, in which he waxes rhapsodic and nostalgic over childhood experiences with superhero comics, adventure novels and film serials. His spirit is infectious.
Among the other contents are grisly Lansdale classics like "Incident on and Off a Mountain Road" and "Night They Missed the Horror Show." Regardless the tale or the genre, the author exhibits consistent unpredictability and blazing originality. His sense of humor is strong, without turning his stories into cheap comedies, and no one quite matches his knack for a simile: "On an afternoon hotter than two rats fucking in a wool sock …"
One caveat: An alarming amount of these stories uses the "N" word. In all cases, it fits the nature of the redneck characters, so Lansdale could argue toward justification and be correct. Just be prepared for it — I haven't seen the word used so often in a work of fiction before, so it was more noticeable than perhaps it ought to be. —Rod Lott
OTHER BOOKGASM REVIEWS OF THIS AUTHOR:
• BAD CHILI by Joe R. Lansdale
• FREEZER BURN by Joe R. Lansdale
• LEATHER MAIDEN by Joe R. Lansdale
• MUCHO MOJO by Joe R. Lansdale
• RETRO PULP TALES edited by Joe R. Lansdale
• SANCTIFIED AND CHICKEN-FRIED: THE PORTABLE LANSDALE by Joe R. Lansdale
• SAVAGE SEASON by Joe R. Lansdale
• SON OF RETRO PULP TALES edited by Joe R. Lansdale and Keith Lansdale
• THE TWO-BEAR MAMBO by Joe R. Lansdale
• VANILLA RIDE by Joe R. Lansdale