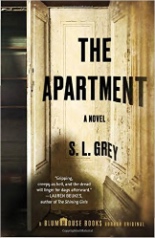 No, not a novelization of the 1960 Jack Lemmon/Shirley MacLaine comedy, THE APARTMENT is a slow-burn horror/suspense story that, if it were indeed a film, would be more suited to be directed by Alfred Hitchcock rather than Billy Wilder.
Mark and Steph are a mismatched married couple living in Cape Town with their toddler daughter. One night, the family is subjected to a home invasion. Although they are left physically unharmed, the psychological stress wears on the couple. They decide to get away for a week with the hope that it will alleviate much of the dark cloud that has surrounded their lives since the break-in. Steph contacts a website that assists would-be vacationers in "residence swapping," a way for folks to stay somewhere exotic without paying hefty hotel rates. Soon after, Steph receives an email from a couple in Paris that would like to swap residences for a week. Jackpot, right? Well, no…
Mark and Steph book a flight to Paris, leave their young daughter with her grandparents, and head out on what they hope will be a relaxing vacation that will rekindle the spark in their marriage. And much like one of those coupons you get that seem too good to be true, so good that you purposely don't read the fine print because your subconscious tells you there has to be a catch in there somewhere, it all quickly goes downhill and their dream vacation begins to resemble a nightmare.
The apartment is shoddy and, except for one unpleasant, slightly unhinged character, the building appears empty. The couple find that their funds for their trip are more limited then they thought. The people they swapped with don't show up at their residence back in Cape Town. Worst of all, the weather in Paris sucks!
Okay, that's not really the worst part. The worst part is, there's something supernatural and malevolent about the apartment (and the building in general). Bad things happen, the couple's already strained marriage begins to unravel, and even when they return home, the supernatural shenanigans travel with them.
S.L. Grey (pseudonym for authors Sarah Lotz and Louis Greenberg) alternates chapters between the points of view of both main characters, which is both a good thing and bad. Good in that the reader gets to deeply explore the inner workings of the minds of the two leads, but also bad in that the more we learn about them, the less sympathetic they become. Mark is a self-pitying closed-off doormat of a man, while Steph's three main moods alternate between jealousy, selfishness, and low self-esteem. Sometimes all three at once. The reader still roots for them, but just barely.
The unlikable leads are, but one small flaw in the book. Sure, there were several places where I found myself asking, "Why don't they…?" But the prose is tight, the plot suspenseful, and the plot mysterious enough that I kept turning the pages to see what would happen next.
THE APARTMENT is recommended, albeit with reservations. —Slade Grayson