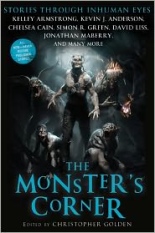 Horror stories told completely from the perspective of the antagonist — the source of the horror — are rare. A novel might occasionally shift its focus to the perpetrator, but most often, the victims carry the story. That's probably why the concept of THE MONSTER'S CORNER: STORIES THROUGH INHUMAN EYES, original stories told entirely from the monster's point-of-view, so appealed to editor Christopher Golden and his impressive array of contributors. Golden then took the theme a step further and stresses in his introduction how the stories were an opportunity to examine the various "monstrosities" in us all.
What he and company overlooked, however, was that this shift, while increasing the empathy for the various monsters, diminishes the essential suspense that results in scaring the reader. Not surprisingly, THE MONSTER'S CORNER contains lots of exceptionally fine writing, but very few actual frights.
Some of the contributors took the challenge as a way to express homage to the monsters who inspired them. Kevin J. Anderson, for example, uses Frankenstein's monster in his "Torn Stitches, Shattered Glass," a sort-of sequel to the Mary Shelley novel in which the monster is living among the Jews of Nazi-occupied Ingolstadt in 1938. While different in style and tone, Anderson manages to underscore many of the themes of Shelley's classic. David Moody takes a more contemporary stance in "Big Man," a story that references such giant monsters as King Kong, Godzilla and several from the B movies made by Roger Corman.
 
Lesser-celebrated creatures from myth and folklore are also featured. In "The Cruel Thief of Rosy Infants," Tom Piccirilli presents a beguiling tale about a member of the ancient race of baby swappers and what happens when one of his swaps goes very wrong. Sarah Pinborough focuses on Medusa in "The Screaming Room," which imagines the effects of her stare taking much longer than previously believed.
 
Golden instructed his contributors to avoid stories about vampires and zombies, and to keep the monsters inhuman. But he admits that he let that last rule slip at times. So the central character in Jonathan Maberry's atmospheric "Saint John" is a man who is convinced that his violent killings are guided by the voice of God in a post-apocalyptic future.
 
A real standout for sheer creativity and imagination is Gray A. Braunbeck's "And Still You Wonder Why Our First Impulse Is to Kill You: An Alphabetical Faux-Manifesto," featuring the author as a character in his own story, forced under duress to list the various, centuries-long grievances dictated by the monsters. Among the often humorous points stressed are the monsters' favorite writer (Joyce Carol Oates), their regret at using H. P. Lovecraft as "a PR man," their fear of Ken dolls, and other surprising revelations.
Other contributors, 19 in all, include such horror-fiction notables as Kelly Armstrong, Sharyn McCrumb and Simon R. Green. THE MONSTER'S CORNER is not for the occasional reader of the stuff, but rather for those who have read enough (and seen enough horror movies) to fully appreciate the change of perspective concept. Such readers will not find many new or different horrors in this collection, but, upon reflection, should be impressed — and perhaps even moved — by the insight, sensitivity and imagination featured in these new stories. —Alan Cranis