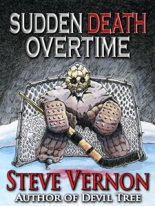 Personally, I prefer paper-and-ink books to the electronic format. I like the way they feel. I like the way they smell. And I like the way they look on a bookshelf.
I like the electronic editions, too, just not as much. But there are distinct advantages to the electronic books: You can carry your whole library around with you, they're easier to dust, the pages don't yellow over time, and we're not decimating trees to print up the latest Stephen King doorstopper.
Also, it's more convenient to publish a novella or a short story on their own and not worry about the cost of printing and distribution. How many times in the past have you looked at an anthology and weighed the number of stories or authors in the collection that interested you, in comparison to the purchase price?
Generally, I scan the table of contents and mentally calculate, "I like that one, that one … oh, definitely that one … that writer I don't like … not a fan … like that one …"
 
Usually, if I'm lucky, one-third of an anthology is composed of writers I like, one-third of writers I don't like, and the rest, pleasant surprises. Sometimes, I discover new authors that way. Sometimes not.
But just like in the days when you were forced to buy a whole album for one or two songs you liked, now in our new, digital, one-click-purchase age, you can buy a song or a story, without a load of filler crap.
Steve Vernon has a new novella out (or "novelette," as he calls it), a slim, 52-pager that's only available on Kindle. It's a perfect format for it, because for $2.99, you get a cool little horror story. If it were printed on paper with a glossy cover and shipped through the mail to your house or the neighborhood bookstore, the purchase price would be at least $9.95 or above. And what would be the sense in that?
In SUDDEN DEATH OVERTIME, we meet the residents of a small Canadian coastal town, a hybrid of Mayberry and David E. Kelley's PICKET FENCES and Jerusalem's Lot in 'SALEM'S LOT … and that's two King references so far. (I promise I'm done.) The residents care about drinking, smoking and hockey. Mostly hockey.
Into this middle-of-nowhere place comes a strange, black bus. The vehicle is filled with vampires, and not the brooding, tortured, anti-hero kind. They've come to feed on the plucky residents and the only people who can stand up to them, or who even know what's going on, are the over-the-hill ragtag former members of the local hockey team.
  
Vernon is one of those writers who is both writing good-old-fashioned horror stories, and also taking the genre into new and interesting territories. Like the best of the old pulp writers, he gives the readers a familiar setting and plot, and then pulls the rug out from under them.
In my review of his short-story collection DO-OVERS AND DETOURS, I called Vernon the product of a three-way sex romp between Harlan Ellison, Richard Matheson and Robert Bloch. As proof, I offer you my favorite line from SUDDEN DEATH OVERTIME:
"It looks like the Partridge Family bus after it got gangbanged by the Munsters's hearse and the Adams Family roadster in the middle of a nuclear paint storm…"
(Yes, I know ADDAMS FAMILY has two Ds. I copied the line verbatim.)
SUDDEN DEATH OVERTIME also includes a short story and a preview of a gritty superhero tale Vernon penned. It's lean, mean and is designed for those of you, like me, who like horror stories with teeth (if you'll pardon the pun). It's ideal for a quick lunchtime reading fix, or a pleasant distraction for your train ride home.  —Slade Grayson