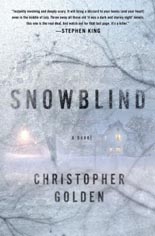 New England's small towns sure do suffer from a surplus of shit going down. If you stick just to Stephen King, you find a map of dysfunctional communities stricken by vampires, aliens, ass weasels, invisible domes. And while his particular impact on the horror genre is acute, King is open about his own influences, from Shirley Jackson to Grace Metalious.
That last reference signals generic conventions beyond the supernatural, tilting toward the soap-operatic. And Christopher Golden's SNOWBLIND seems more certain in its melodrama than as spookfest, offers more of a new spin through PEYTON PLACE, despite the paranormal plot.
Or maybe the line of descent more exactly leads from small-town soap to '70s-era high-concept, big-cast films like THE TOWERING INFERNO. SNOWBLIND feels more like — and, for this reader, falls down as — a disaster movie where the emphasis is less on the monstrous MacGuffin and more on the lives affected.
The book opens as a vicious blizzard descends on Coventry. A restaurant owner realizes the unlikelihood of further business, and while closing starts flirting with her entertainment, a bachelor-handyman moonlighting as musician, the two shyly bonding while the storm rages outside. A well-meaning part-time mechanic near to down-on-his-luck stumbles a bit closer to rock-bottom when his arrogant boss snickers lewdly about the young man's girlfriend. She, meanwhile, is waiting for him at home (and, like a few other town residents, is about to fall prey to things in the storm).
And so on — it's a rather large cast of characters laid out with a slew of personal woes and hopes, all about to be disrupted by this doozy of a snowfall and the deaths and strange disappearances that ensue.
The novel then jumps to 12 years later, and Golden catches the reader up to how that trauma lingered and affected folks thereafter. This exposition-heavy middle stretch either slowly or lovingly crafts a full picture of the community, depending on your investment in these characters. And he then rolls another storm into town, leading to a final confrontation with the losses from before and the sinister forces behind them.
I found SNOWBLIND readable, which is faint praise, I know, but it never revved up for me. There's a competency to the setup, and it seems like Golden is achieving exactly what he sought. But these people and the events were so bland; I didn't need more "action" or terror, but if you're going to focus on character, I need less exposition, more eccentricity. Matters here seemed relentlessly straightforward.
I couldn't stop contrasting with Stephen Dobyn's far more effective, wonderfully odd, spooky New England potboiler, THE BURN PALACE. That novel generated a lot of heat; like the best soaps, you can't wait to see what happens next. SNOWBLIND, on the other hand, had me trudging along. It's a passable, but forgettable, evening's entertainment. —Mike Reynolds