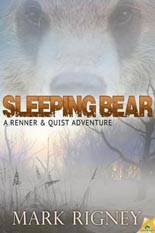 Samhain Publishing has developed a nifty strategy for a small outfit: With a strong focus on developing or lesser-known writers, it produces short e-books that give authors a platform to build a fan base and give the audience an economical way to find (and support) new talent. Horror tapas, if you will.
I applaud the effort, and my reaction to two recent works is tempered by the stakes and objectives: It would be worth your time to track these down and sample, even if only to give the house room to keep playing with its experiment. And you are likely to find some degree of satisfaction, although — like any sampler plate — some tastes will be more to your liking than others.
Mark Rigney's SLEEPING BEAR tracks odd-couple partners in a paranormal mystery. The Rev. Renner is a slight, empathetic man with a "terrible affinity for the supernatural" that brings people — and ex- or non-people — to his door, seeking solace. (He's a Unitarian, so his faith is of a more big-tent, happy-god spirituality than fire-and-brimstone condemnation. Put another way, Kirk Cameron is unlikely to star in a film adaptation.) This avatar of New-Age-sensitive guyness finds himself working with Dale Quist, a different kind of manly avatar: a taciturn but smart-ass P.I., scornful of the PC.
In this round, they are contracted by Megan Driftwood Jones, an Ojibwa loner who recounts the legend of a mother bear who swam with her cubs in flight from a fire, and exhausted by the journey settled into slumber as sand dunes overlooking her cubs (now islands) off the coast of the upper peninsula in Michigan. Megan says the bear is waking up, seeking vengeance for a slaughtered member of her "family."
And we're off. Rigney's got a lock on what he's up to: The story is well-paced and, while predictable in its arc, deploys some specific local ingredients that create savory, if minor, pleasures.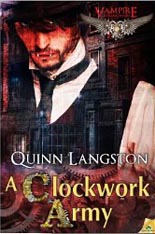 Quinn Langston traffics in different but no less archetypal avatars. In A CLOCKWORK ARMY, a dashing Victorian vampire battles his sinister vampire older brother, trying to save an intrepid steampunky heroine and all humanity from a battalion of undead reanimated by elaborately-yet-vaguely-crafted machinery. There's violence, sexy times, romance, Queen Victoria, airships. I suppose these flavors tend not to be to my taste, but Langston has an ear for the baroque in her prose and is clearly having fun — you may relish this more than me, and she seems to be just warming up.
Both works fit into a series — Rigney's detectives have had a few adventures, and Langston plans further exploits. I was happy to sample … but I'm not sure I'll return to these specific characters. The trouble with avatars — or the neat familiarity of the paranormal mystery and the steampunk paranormal romance — is that they feel like the kind of dish offered at any number of restaurants. Given the opportunity afforded by this publishing method, why not more experimental tastes, less familiar entrees? Still, these are well-crafted entertainments that are sure to please those who, reading the synopses above, got hungry. —Mike Reynolds
Buy it at Amazon or Samhain Publishing.