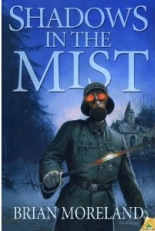 Brian Moreland made a flawed but nifty debut as a novelist with SHADOWS IN THE MIST, originally published in 2006, but now re-released in a much more handsome trade edition from Samhain. Part thriller, part horror, part fantasy and part military adventure, it owes a great debt to F. Paul Wilson's THE KEEP with its main mix of WWII-era Nazis and supernatural.
Decades after his entire platoon was decimated under mysterious circumstances, Army veteran Jack Chambers entrusts his grandson Sean with delivering his war diary to his old general, now stationed in Germany. Doing so, Sean and the general realize just what was so damned important, as the diary details a fantastical tale of death and demonic forces – a tale verified in their search of an underground tomb where they unearth a Nazi relic.
That first batch moves at a remarkable speed, but that slows down a bit as the book then flashes back to Chambers' Army outfit – where it stays for the remainder of the story, save just a few pages. We meet the individual members of his platoon as they receive an assignment to infiltrate a Nazi fortress in the forest. In this dangerous feat, the GIs are joined by "X-2 commandos," a unit of such highly trained supersoldiers that they go by animalistic codenames, i.e. "Wolf."
What they find defies all natural laws, and the ice-cool cover image is the least of their problems. I won't spoil the nature of their true foes. While SHADOWS doesn't break new ground, at least the ground it treads is comforting for genre fans. Suffice to say, those who read anything with even a vague Freemasons/Kaballah/Knights Templar subplot will be satisfied (at least temporarily), as will those who are suckers for thrillers laden with supplementary maps, codes and other steeped-in-mystery images, all nicely designed.
In the previous editions, SHADOWS drew on longer than it should, with a large chunk in the middle where not much happened, to the point I would argue you could skip it and not miss out on anything. In the years in between, some trimming has turned the book into a sleek, well-oiled machine.
Moreland makes a name for himself as someone to watch out for in tomorrow's horror field, and while this may not be the spooky read of the upcoming Halloween season, it's worth carving out a little time for. —Rod Lott
Buy it at Amazon or Samhain Publishing.