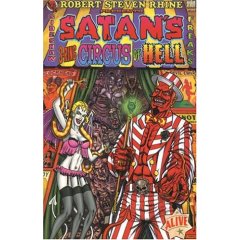 Robert Steven Rhine is one sick motherfucker. And, of course, I mean that in the best way possible.
When not publishing BOOKGASM fave Girls and Corpses, he's writing deliciously deviant comic stories, all collected in SATAN'S 3-RING CIRCUS OF HELL. While the tales are undoubtedly of a humorous bent, most of them really hinge on just what your personal definition of "funny" is. Luckily, mine is a lot in line with Rhine's, so he's in good company. I found this collection so hilariously twisted and – at the same time – so devastatingly sick, I had to go back over what I just saw to make sure I didn't misinterpret it.
In between one-page sight gags (like the inside-out man), the short tales that particularly disturbed me included "Gas Pains," about a woman who not only gives birth to a snake, but a whole mess of little snakes; "Separation Anxiety," the best twist on the Siamese twin legend since BASKET CASE; the vampiric story "The Symposium," about a bloodsucking convention; and the hilarious "Boneyard Tours," featuring a pair of dudes making a living out of famous carcasses.
But the best one – the deeply disturbing "Fast Acting Xilotripimene" – is more of a sci-fi extremist tale that's not funny at all, but actually pretty prophetic: The U.S. Army is testing a new drug that kills all pain in order to keep soldiers on their feet in war. It's a story that could have made a classic episode of THE TWILIGHT ZONE.
This isn't a CIRCUS that everyone will want to visit, but for the like-minded, it's a sojourn into the nightmarishly wacky that's better than eating a funnel cake on a broken tilt-a-whirl. –Louis Fowler