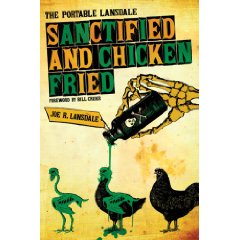 Shock and awe best sum up SANCTIFIED AND CHICKEN-FRIED: THE PORTABLE LANSDALE, an anthology of Joe R. Lansdale's East Texas stories, issued by University of Texas Press. Definitely not for the fainthearted or the easily offended, this book also happens to be the definitive collection of his work, showcasing all the elements of his style.
Bill Crider provides a great foreword to the collection, relating his longtime friendship with Lansdale and talking about the pieces that made the cut, including some of Lansdale's personal favorites. It features his best-known work — for me, at least — with "Bubba Ho-Tep," the story of a rest home where one Elvis A. Presley resides.
See, Elvis tried to duck out of the spotlight, with an impersonator taking his place all those years ago, only for that person to up and die on him. Now close to 70, the real Elvis lives his life in an old rest home, where an Egyptian mummy has made it his hunting ground for souls. Elvis' compatriot is an elderly black man who believes himself to be President John F. Kennedy.
All through the reading, it's really hard not to picture Ossie Davis or Bruce Campbell coming through, since they captured those characters so well in the movie version. Having seen the film countless times, the novella greatly expands on the frustration of an aging Elvis who knows no matter what he says, they will never believe he was the king, and he finally becomes the one thing he always wanted to be: a true hero.
But "Bubba" is only a drop in the bucket of this book, since we have what Lansdale calls a true story in "Mister Weed-Eater," in which a man who tries to be a Good Samaritan by helping out a blind gardener has his whole world turned upside-down in major ways. Who would ever believe that a blind man could be so capable of the things that happen to our narrator? "Tight Little Stitches in a Dead Man's Back" is about as bleak as a post-apocalyptic sci-fi story can get. Make sure to read it before bedtime. It's sure to give you nothing but pleasant dreams.
"The Big Blow" tells not only of the storm that hit Galveston, Texas in 1900, but of a town that has hired a boxer to deal with a black boxer that the town is sick of. Lansdale fills this story with some truly disturbing characters who will stop at nothing to shut up what they see as a loudmouthed black man, all the while a giant storm heads their way with no regards to anything in its way.
Right before "Bubba Ho-Tep" takes center stage, there are two unflinching and brutal stories. "The Pit" seems like the gladiator scene from SPARTACUS, as put on by backwood rednecks, while "Night They Missed the Horror Show" tells the story of some good ol' boys who don't want to see the latest horror film, since the star is a black man. (The title is not mentioned, but I'm guessing it was probably NIGHT OF THE LIVING DEAD.) But where the boys end up is even more horrifying than anything ever shown on screen. This story alone could probably turn a few people away with its sheer brutality and callousness.
Two excerpts from out-of-print books are also included, from A FINE DARK LINE and THE MAGIC WAGON, which is unlike any Western I've ever read. Make no bones about it: This collection just kicks major ass throughout, closing fittingly with a story of true friendship in "White Mule, Spotted Pig." The only fault I could find with this book is that I wish it were even longer. —Bruce Grossman
OTHER BOOKGASM REVIEWS OF THIS AUTHOR:
• LEATHER MAIDEN by Joe R. Lansdale
• MUCHO MOJO by Joe R. Lansdale
• SAVAGE SEASON by Joe R. Lansdale