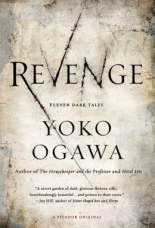 In the second story of Yoko Ogawa's deeply creepy collection REVENGE: ELEVEN DARK TALES, a woman is a confused witness to a dinner between another woman and an older man. The narrator has been invited along, for reasons she doesn't quite grasp. As the tense evening tick-tocks toward a close, dessert arrives:
… strawberry cake covered in a thick layer of whipped cream. The man wadded up his napkin and set it on the table.
"You're welcome to your father's as well," he said, sliding his plate toward her.
An icy gust seemed to pass between them, and the word '"father" hung in the air. I glanced over again and saw her devouring her cake, lips shiny with cream.
"No, thank you," she said.
The reader will feel — as I imagine you do right now, as the narrator of this story does — dislocated, unsure what exactly is happening. But the discomfort is palpable.
Each story in this collection is suffused with such longing and loss, a sense of appetite and need unmet, unsatisfied. Relationships curdle, and each character seeks relief by turning her or his pain into strange ritual, or projecting it onto others in acts of surprising violence.
An elderly neighbor brags to a writer about her garden's output while angrily rebuking her now-absent husband; a man recalls his eccentric stepmother's descent into paranoia; a heartsick young woman happens upon a small museum displaying instruments of torture; a craftsman is asked to manufacture a bag to carefully house and secure a beating human heart; a betrayed wife wanders into a garden where an older man nurses a stricken, dying tiger.
Each tale here seems precision-tooled — no spare introspection or narration. No rush to action, either; Ogawa works most effectively as a pointillist, our understanding of events emerging in retrospect, after moments and images have washed over us.
The characters, too, seem unsure of what is going on or how they fit in. They don't act as much as reflect on their actions, as if a particular horrible thing they end up doing has happened to them, as well. (And sometimes, a particular horrible thing has just happened to them.) Revenge is less a way to take charge of events than a trap that springs, snaring everyone.
Ogawa's work evokes an almost existential dread, as a result. The strength of each individual story is amplified by echoes and relations between them: strawberry cakes and kiwis, mothers and children, a tiger, a pair of scissors. Each provokes these moments of strange recollection; as you try to figure out what's going on, the image of a young woman's lips, "shiny with cream," will hit you in the pit of the stomach for reasons you can't quite name.
REVENGE is more KWAIDAN than RINGU, and it will burrow deep under the skin before you even recognize the dread. It's an excellent, intense collection of psychological horror. —Mike Reynolds