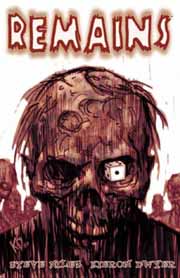 Newly back in print, REMAINS marks Steve Niles and Kieron Dwyer's attempt at a zombie-themed comic book. And by "attempt," I mean a skull-smashing success. Although the setup sounds remarkably been-there-done-that, there are things in this five-issue miniseries I've never seen in a zombie book.
Things get off to a gleefully twisted start when the world finally has achieved peace, and its various countries are set to disarm all their nuclear weapons simultaneously on Peace Day. Untold thousands show up for the blessed event, but leave it to one retarded straggler to screw everything up, pushing a button he shouldn't have. The result is a worldwide scorcher that fries the global population, turning it into zombies.
But not Tom and Tori – a Reno, Nev., bartender and waitress/stripper, respectively. Because at the time of the blast, Tom had lured Tori into the casino vault and given her blow to drop her drawers. When they finish, they emerge to find themselves the only ones around … who aren't covered in pustules, that is. They spend their days bickering in their fortified sky-rise hotel as the zombies below them swarm and evolve.
There are even different types of zombies, but I'll leave you to discover the details for yourself. Just when you think REMAINS is set to trot out a zombie cliché, Niles turns it on its disembodied head and does something new with it. Dwyer's art – unafraid to pull punches, not to mention tendons – is well-suited for Niles' dark humor and intense scenes of fluid (literally) horror. It's an even better comic than Niles' own DAWN OF THE DEAD adaptation, and I was sorry to see it end at five issues. With such a killer concept, the potential existed for a series twice its size. –Rod Lott
OTHER BOOKGASM REVIEWS OF THIS AUTHOR:
• BIG BOOK OF HORROR by Steve Niles, Scott Morse, Ted McKeever and Richard Sala
• BIGFOOT by Steve Niles, Rob Zombie and Richard Corben
• THE CRYPTICS by Steve Niles and Benjamin Roman
• DAWN OF THE DEAD by Steve Niles and Chee
• FUSED by Steve Niles
• THE NAIL by Steve Niles and Rob Zombie
• SECRET SKULL by Steve Niles and Chuck BB
• STEVE NILES' CELLAR OF NASTINESS by Steve Niles
• 30 DAYS OF NIGHT: RUMORS OF THE UNDEAD by Steve Niles and Jeff Mariotte