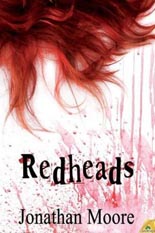 Even to hint that Jonathan Moore's gruesome REDHEADS has a sharp twist may give a bit too much away. So here's the review: REDHEADS is a clever refresh of the serial-killer genre, following a loose team of victims' family members banded together to track down the murderer. Moore's debut is an assured, compelling thriller.
Still here? Caveat lector.
REDHEADS is a gearshift novel, one which steers you down one generic road, then takes a sharp turn to reinvent what is actually going on.
We meet Chris Wilcox as he breaks into a crime scene a couple days after a brutal murder. A young, redheaded woman has been eaten (alive), and she's far from the first. Wilcox's wife was an earlier victim, and despite tracking for some time, all he really knows is that there's a strange global pattern: Redheads near the ocean are killed in grotesque fashion, each death marked by a pattern of cannibalistic behavior. So he stakes out the latest crime scene, looking to survey the forensics himself.
Wilcox isn't alone in the search. Soon, a group of amateur sleuths (with — ahem — skin in the game) is on the trail, and the novel's central strength is its attention to the steady accretion of forensic and historical details. Moore deftly drops hints, and the procedural has a compelling momentum as well as a technician's fluency with various up-to-the-minute, gee-whiz detective tools.
But the hints often include bizarre details — a witness who claims he saw a figure swimming in an ocean channel right before a murder, slicing through the waves at 20 miles an hour; a realization that the murders seem to span at least four decades — that give the proceedings a macabre X-FILES vibe. Yet Moore also writes with an understated style (noting, for instance, "the dry whisper of snowflakes hitting the windshield"), a sly counterpoint that grounds the Grand Guignol of the murders and the outsized surprises in the plot.
While those of us weaned on KOLCHAK may suspect those surprises before they're fully revealed, the novel has many more strengths than its sly misdirection. REDHEADS is a neat, bracing read — a strong thriller as well-crafted as it is confident. —Mike Reynolds
Buy it at Amazon or Samhain Publishing.