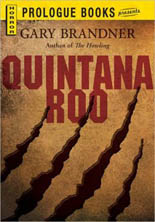 John Hooker is a an ex-pat living in Mexico scraping by. Usually he gets hired out as a sort of tour guide for foreigners who want a little action in town. Then one day, he is offered a job that as dangerous as it is, the pay will make it worth it. Also, he has other reasons for taking this job: to find a missing husband.
Now, this is not a case of a man running away from his problems. More of the man's plane went down and his wife needs proof that he is alive or dead. The man in question, Nolan Braithwaite, was a bit flush with money, and now his wife, Connie, is getting impatient since it's been a year that Nolan has been lost in the Yucatan. Hooker is more intrigued since a good friend of his was part of Nolan's expedition. Could these men have survived a year in that treacherous country?
But what is standing in the way of this expedition is the territory itself that Hooker needs to traverse: Quintana Roo, a land that is filled with Mayans who don't take kindly to visitors, plus insects and animals of all shapes that can kill people rather easily. Then there are the rumors of the Muerateros, a zombie-like being which can kill a man like it was squeezing a grapefruit.
Even though Prologue Books has QUINTANA ROO listed under its horror category, its more like one of those men's adventure covers come to life. The story is packed with over-the-top moments throughout. Sure, the story starts out with a tinge of the horror aspect, but once Hooker and company make it down to Quintana Roo, look out — it's full-on balls-to-the-walls adventure.
Author Gary Brandner (THE HOWLING) seems to have grown up sneaking peeks at those old men's adventure magazines. Since it seems every type of situation is thrown into the mix. Not to spoil any surprises for the readers, but just get ready for some truly over-the-top excitement. Sadly, the cover will mislead readers a bit. And take note: The book also came out under the title of TRIBE OF THE DEAD, which actually fits even better. —Bruce Grossman