Because time isn't always kind: economic reviews in a world full of waste!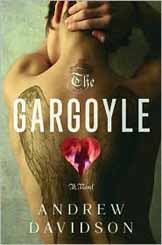 I don't ever want to know what it feels like to be burned alive, but Andrew Davidson came damn close to making me feel it in his debut novel THE GARGOYLE. The opening scene — and many, many thereafter — offer nail-biting detail about what it's like to burn and the even more painful process of trying to heal. The hero, a formerly handsome "fuck artist" in the porn industry, ends up in the burn ward after a car crash, and upon awakening months later, gets strange company. Marianne, a patient from the psych ward who — over many long, drawn-out stories — reveals the two were lovers in medieval times and that he has been burned twice before. He believes she is either schizophrenic or a manic depressive, or both, yet she calmly tells him one day he'll understand. She's a stone carver of gargoyles and takes him in after his release, and the two begin their bizarre yet innocent relationship based on her belief that her heart belongs to him. Well-written, gutsy, evocative and ultimately redemptive, the 465-page tome seemed too long, as the story skitters off the path into the past too much to keep a brisk pace. However, the story is so good, the long length and occasional aside is forgiven. It's a weird, wild, wonderful ride. —Malena Lott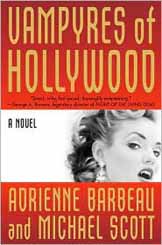 Adrienne Barbeau — yes, that Adrienne Barbeau — tries her hand as a novelist, pairing with Michael Scott for VAMPYRES OF HOLLYWOOD. And you know what? She ain't bad! This horror-tinged mystery is admittedly fluffy, but surprisingly witty. Set in Hollywood, the book follows a former B-movie actress who just happens to be a vampire, as she teams with a jaded detective to investigate a string of murders, in which all of the victims were bloodsuckers like herself, even if no one outside of the fanged circle knows it. Film fans are going to dig it, as hardly a page goes by without some reference to one movie, actor or another, touching on everyone from Ray Harryhausen to Roger Corman, and with Barbeau making fun jabs at her own work in CANNONBALL RUN and CARNIVALE. They even create a vampire council comprised of dead Tinseltown luminaries, including Orson Welles, who bemoans his involvement with TRANSFORMERS: THE MOVIE.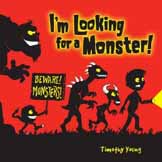 It will take you maybe 15 seconds to read I'M LOOKING FOR A MONSTER in its entirety, but I'll bet you take much, much longer to peruse its pages. See, Timothy Young's book is a pop-up, intended for pre-kindergarteners, and while they'll be entranced by the wheels, tabs, flaps and snaps, it's adults like you who can truly appreciate Young's illustrations. Each spread contains a single-colored background, with all the figures in the foreground in black. Only eyes, teeth and various kinds of horns and claws render as white, making for a simplistic, stark cartoony look that's rather cool. It should keep the kids entertained until Halloween, when they'll wish their trick-or-treat bags looked as hip.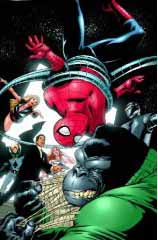 The second digest in the series, SPIDER-MAN FAMILY: UNTOLD TEAM-UPS continues in the tradition of all-ages adventures pairing your favorite wall-crawler with various heroes. Here — in six stories from three consecutive issues — that includes the Agents of Atlas, Doctor Strange (with a cameo from vampire Morbius), caveman Ka-Zar and the villainous Kraven (if only for just long enough to take care of Man-Wolf). The two best stories come from the comedic Chris Eliopoulous, who tackles The Puppet Master and Frog Thor — yes, that's the Mighty Thor as an amphibian — with cartoonish glee. —Rod Lott