Because time isn't always kind: economic reviews in a world full of waste!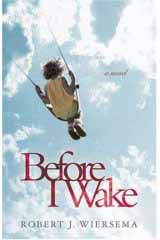 The paranormal thriller BEFORE I WAKE follows the lives of those affected by a hit-and-run accident involving a trucker and a 3-year-old girl named Sherry. It puts Sherry in a coma-like state and causes the guilt-stricken trucker to attempt suicide. He fails, but it turns him invisible to all but a few men just like he. Meanwhile, Sherry's caretaker discovers her arthritis has been healed, and thinks the tot might have something to do with it. The book alternates POVs between multiple characters, including the trucker, the caretaker, a cheating father, his mistress, the grieving mother and an unnamed stranger. Robert J. Wiersema's literate debut novel is equally original and heart-wrenching, especially in the story of the family's dissolution. Highly recommended for those who enjoy family drama and the supernatural, with a deeper meaning. –Malena Lott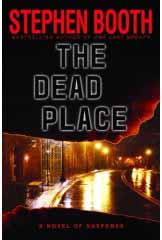 With THE DEAD PLACE, Stephen Booth continues with what is now the sixth book in the Cooper & Fry series, in which they have to deal with a mysterious killer who spends all his time teasing and taunting the detectives with a string of bizarre phone calls. During these conversations, he explains that to find him, they need to get to "the dead place." Meanwhile, Cooper and Fry uncover a woman's body that was left for dead more than a year prior, with no mention of a missing person to match to her. Are these two things connected? It's up to our boys to figure it out. For those who enjoy a psychological trip into the world of police procedure, this book is for you, since it's more about atmosphere and the goings-on than just a simple killer-of-the-moment plot. This is no fly-by-night beach read, and those unaccustomed to the series may feel lost. –Bruce Grossman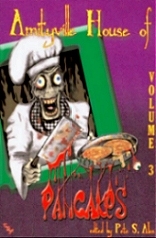 For those who like their speculative fiction served up spoofy instead of spacey, consider AMITYVILLE HOUSE OF PANCAKES, VOLUME 3. Edited by Pete S. Allen, this edition of the every-so-often small-press anthology features three novellas whose appeal will hinge upon your tolerance for silly names and such. ROGER RABBIT creator Gary K. Wolf teams with Jehane Baptisté for "The UnHardy Boys in Outer Space," which is more like a string of pop-culture references and riffs than a story. Its titular duo floats around in jet-propelled space suits, debating sci-fi, pulling practical jokes and saying things like, "Wee, wee, wee, wee, drippy sharts. Babee needee dipe" and "Punkin yo be do mooch foon." In that regard, it's like an improv comic who won't shut up. K.M. Praschak's female-empowering "Paragon" is less annoying, but no more lucid. The best of the trio is Paul Kane's Sherlock Holmes parody "Dalton Quayle and the Curse of King Tuti Fruiti," but even its bits of biting wit are interspersed with the inane. If the HITCHHIKER'S GUIDE movie struck you as hysterical, you'll likely feel the same about AHOP.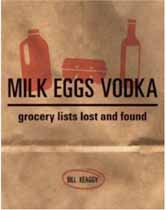 When making your list for your next trip to the bookstore, put MILK EGGS VODKA: GROCERY LISTS LOST AND FOUND at the very top. An extension of Bill Keaggy's website on the same subject, the book presents page after page of people's discarded lists. Aside from the inherent humor in the numerous misspellings of "bananas" or hysterical demands not to forget and/or purchase this product or that, there's a fascinating, almost voyeuristic aspect at work here as well; some of these lists read like an encoded glimpse into their owners' personal lives (not that the list simply reading "tissues, oil, AAA batteries" needs much cracking). Thoroughly hilarious, the book made me laugh out loud every few pages. And as good as it is for the funny bone, it's also fortifying for the eyes, with incredibly attractive design. We also can't ignore the utterly genius title.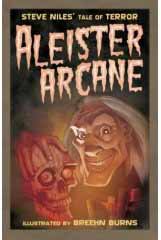 One of Steve Niles' lesser-known titles is ALEISTER ARCANE, and perhaps for a good reason. It's not a bad graphic novel, but it's a just-passable idea stretched out among five issues when two could've covered it. The titular Aleister was once a hotshot TV weatherman-cum-horror host who finds he's out of a job once his shtick doesn't play so well in the Oklahoma town to which he moves. He's downright alienated by fellow residents, but one Halloween, some curious kids befriend him. But when he dies, his curse turns all the adults into actual monsters, leaving his pals to fend for themselves and try not to die. Breehn Burns' art has a nice, painterly quality to it, but sometimes too abstract for the good of the visuals. –Rod Lott
OTHER BOOKGASM REVIEWS OF THESE AUTHORS:
• BIG BOOK OF HORROR by Steve Niles, Scott Morse, Ted McKeever and Richard Sala
• BIGFOOT by Steve Niles, Rob Zombie and Richard Corben
• THE CRYPTICS by Steve Niles and Benjamin Roman
• DAWN OF THE DEAD by Steve Niles and Chee
• FUSED by Steve Niles
• THE NAIL by Steve Niles and Rob Zombie
• REMAINS by Steve Niles and Kieron Dwyer
• SECRET SKULL by Steve Niles and Chuck BB
• STEVE NILES' CELLAR OF NASTINESS by Steve Niles
• 28 DAYS LATER: THE AFTERMATH by Steve Niles
• 30 DAYS OF NIGHT: RUMORS OF THE UNDEAD by Steve Niles and Jeff Mariotte
• WAKE THE DEAD by Steve Niles and Chee