Because time isn't always kind: economic reviews in a world full of waste!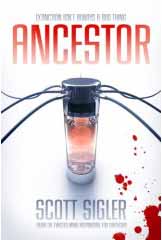 Beginning with a pig virus gone amok – and thus "a broken airlock away" from a population wipeout – Scott Sigler's ANCESTOR reminded me of the first RESIDENT EVIL, with a dash of Michael Crichton's THE ANDROMEDA STRAIN. On an icy island outpost, a crew experiments with animal embryos in hopes of inventing disease-resistant human organs. But something goes wrong and the cow fetuses grow into oversized creatures that eat each other in the womb. If such a thing ever got out and got loose … well, that's the second half of this amusing horror/sci-fi combo, one that then recalls THE THING. Stiger knows his genre, but has too many characters to keep track of in an essentially simple story. Any book that can work a bovine uterus and a sex tape into the plot, however, is certainly worth a look-see. A slightly tighter focus would result in greener pastures, but Sigler's online fan base is legion and likely to swallow this whole.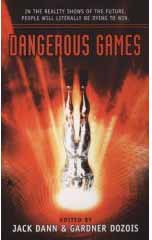 With DANGEROUS GAMES rounding up sci-fi stories of "reality shows of the future," I expected a bunch of bite-size RUNNING MANs. Jack Dann and Gardner Dozois offer that … at least in the first story, Robert Sheckley's "The Prize of Peril," in which a man spends a week trying to run from people being paid to kill him, all to the delight of millions of viewers. Written in 1958, Sheckley's story is awfully prescient, and in this book, the rule of thumb is that the older the story is, the better it is (Kate Wilhelm, yay; Cory Doctorow, eh). Gwyneth Jones contributes a virtual-sex tale featuring Red Sonja, which is probably the best among the newer bunch. Also in the mix are Allen Steele, Jonathan Lethem, Alastair Reynolds, Vernor Vinge and Terry Dowling, among others. All in all, the anthology is only half-good, but worth it, I think, for the Sheckley story alone.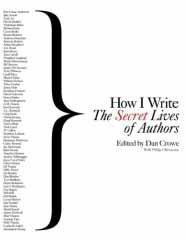 For HOW I WRITE: THE SECRET LIVES OF AUTHORS, editors Dan Crowe and Philip Oltermann asked dozens of professional writers – Joyce Carol Oates, Nicholson Baker and Douglas Coupland among them – about their creative crutches. Unsurprisingly, smokes, hooch and money figure in on some of the responses, but not everyone goes for the obvious, citing earplugs, knickknacks and Frank Sinatra albums. These short essays mostly amuse. Ironically, HOW I WRITE is going to appeal less to writers than it is to design freaks, because, like a book in the hands of Chip Kidd – who, incidentally, reveals that he writes his novels in Quark XPress – it's an exceedingly well-designed tome for your coffee table, playful with typography and smart with the art, whether drawn or photographed. (I'd love to frame the illustration of John Byrne's typewriter for my wall.) You can read it if you want to, but you'll be blown away by Vince Frost's design job.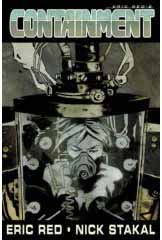 Screenwriter Eric Red (THE HITCHER) and artist Nick Stakal (HYDE) collaborate in CONTAINMENT, a five-issue foray into horror in the furthest reaches of outer space. I'm a sucker for interstellar fright, and from the start, this graphic novel does a good job of setting an eerie mood, unfolding like a storyboard to EVENT HORIZON or ALIEN. The plot concerns a mission to Saturn that goes terribly wrong when the containment units malfunction, filling some crew members' bodies with fluid that turns them into zombies. The midpoint drags a bit as predictability sets in, but things pick back up for a ending that suggests what 2001 might have ended like if George Romero turned guest director. It's gory and sexy and slick and eerie.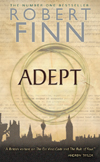 A supernatural force is afoot in a museum in Robert Finn's ADEPT. But don't mistake it for THE RELIC. Instead, it is a relic – a thriller so British (read: creaky and mannered) that any inklings early on that it might be an exciting thriller are quickly put to sleep. That's too bad, because it begins with a good-old-fashioned locked-room scenario, but just as soon veers toward that now utterly tired conceit of generating a plot from the DA VINCI CODE-O-Matic: Person A and Person B seek Ancient Artifact C. Finn tries to inject something different into it with a supernatural angle, but it's not nearly enough.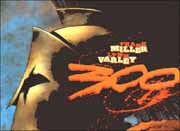 Though I haven't yet seen the blockbuster hit movie, part of me suspects I may not need to, because Frank Miller and Lynn Varley's graphic novel 300 – originally published in 1999, now back out in full synergetic force – damn near looks like an exceedingly well-fleshed-out storyboard. Certainly the creators knew this, because the book is crafted in essentially comics' version of the widescreen format, with scope that's sheerly cinematic. The story? It retells the true story from 480 B.C. in which 300 Spartans faced incredible odds against a Persian army of untold thousands. But this one's all about the bruised, bloody battle, and portrays the spectacle with aplomb. –Rod Lott
OTHER BOOKGASM REVIEWS OF THESE AUTHORS:
• CHIP KIDD: BOOK ONE – WORK: 1986-2006 by Chip Kidd
• ESCAPE FROM EARTH: NEW ADVENTURES IN SPACE edited by Jack Dann and Gardner Dozois
• SOMEONE COMES TO TOWN, SOMEONE LEAVES TOWN by Cory Doctorow