Because time isn't always kind: economic reviews in a world full of waste!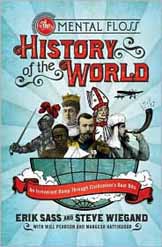 Like a big ol' history lesson with a teacher you actually care to listen to is THE MENTAL FLOSS HISTORY OF THE WORLD: AN IRREVERENT ROMP THROUGH CIVILZATION'S BEST BITS. Co-authors Erik Sass and Will Pearson do their best to channel the MENTAL FLOSS magazine's dual sense of smarts and slight snark as they trudge through the ages in chronological order, tackling everything from popes to sheepskin condoms (once so pricey, men reused them, often without washing). This book is densely packed with trivia and info, but its entries are bite-sized enough that it's pretty well-attuned for short-term-attention-span reading, making it ideal to keep on the back of the toilet.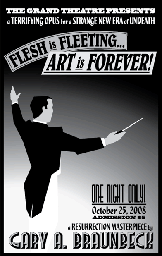 Gary A. Braunbeck's FLESH IS FLEETING … ART IS FOREVER! OR, SOME BULLSHIT WILL CONTINUE EVEN AFTER THE DEAD WIPE US OUT looks not unlike a performing arts program, and that suits the work to a T. This chapbook contains an 11-page short story in the guise of a newspaper review of an orchestral concert, where the musicians are members of "the Resurrected." (That's a euphemism for "zombie.") It's amusing to read the pompous critic wax rhapsodic over the notes produced by the undead, including a violinist with decayed intenstines that hang "beneath her like a jellyfish's stingers." This release — from Creeping Hemlock Press and limited to 250 copies — is all about bleak humor, and pays off in the end.
With unemployment rising, maybe now's a good time to learn a new trade. Like, say, spying on our nation's enemies. SPYOLOGY: THE COMPLETE BOOK OF SPYCRAFT shows you how! The latest in the kid-oriented series that has birthed DRAGONOLOGY and EGYPTOLOGY, Dugald Steer's hardback is one of those colorful infotainment things that's heavy on illustrated text and tipped-in envelopes containing untold surprises. There's a movable code wheel, secret messages and such, all of which encourage and reward reading, which I'm all for. Ciphers, disguises, surveillance, gadgetry, forgery, escape — it's all taught here, as is a little bit of history. To help your Encyclopedia Brown graduate to a James Bond, gift them this.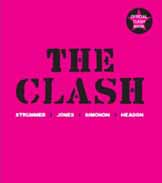 Now I've gotta let you know: Should you let THE CLASH stay on the store shelves or go? (See what I did there?) This big, pink coffee-table book serves as the oral history for the seminal punk band, offering a year-by-year account of The Clash's existence. That entails tour set lists, single discographies, album covers and lots and lots of candid photos. The book is in the band members' own words, even if it's not by them. Instead, the interviews are conducted by editor Mal Peachey, and are presented in the Q&A format, seemingly raw. This really is the story of The Clash, in that nothing after the group's demise is covered (sorry, Big Audio Dynamite fans), despite the legacy and popularity they continue to enjoy). Among the many images, two stood out for me: a photo of bassist Paul Simonon's hand-drawn covers for homemade compilation tapes on the tour bus, and a comic of the band from METAL HURLANT. Hardcore fans are bound to find dozens upon dozens more. —Rod Lott